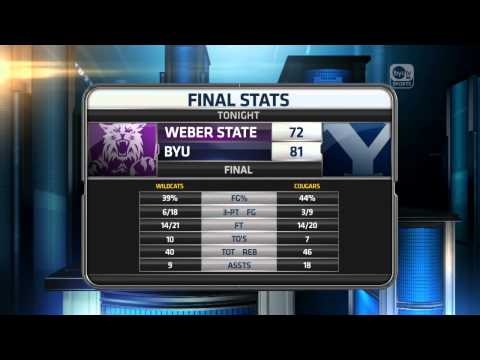 View 2 Items

Going into its season opener against Weber State, the BYU men's basketball team appeared to have a substantial talent advantage on paper.
The Cougars have, in recent years, secured the talents of several nationally ranked high school recruits, coveted by other successful programs. The Wildcats, on the other hand, while they are well-coached and hard-working, typically have a roster full of players not offered scholarships by bigger programs.
In general, that difference in talent was clearly evident in Friday night's game, which the Cougars won 81-72. BYU pulled out to a big lead early and was never truly threatened. Weber State had a few players get hot at different times to keep the game respectable, but ultimately the more talented Cougars were too much for the Wildcats to handle, particularly with the game at the Marriott Center.
Neither team did anything to alter preseason expectations. Weber State looked like a team good enough to win the Big Sky Conference, which it unanimously was picked to do by the coaches in the conference. BYU looked like a team athletic and skilled enough to compete with Gonzaga for the WCC title and return to the NCAA tournament.
A few things stood out about the teams in Friday night's opener. The Cougars looked more athletic than last season, and as a result seem poised to be a more consistent team relying less on the three-point shot. Also, head coach Dave Rose stuck to his plan to play more man-to-man defense, which looked promising considering this was the season opener.
The Wildcats appear to have sufficient pieces to execute an effective inside-out game. For much of the contest, their big men outplayed the Cougar frontcourt, and this led to open shots and driving lanes for their better perimeter players during certain stretches. On the flip side, only four players scored for Weber State, which has to be a concern.
Bottom line: BYU should have won this game by at least 15 points.
Read on for grades by position and more.
Nathan Gagon is a finance manager by day and a writer/musician by night, but mostly he is a wholehearted father, grateful husband and ardent student of life — around the clock. Oh, he shoots about 94 percent from the free-throw line ... no big deal.