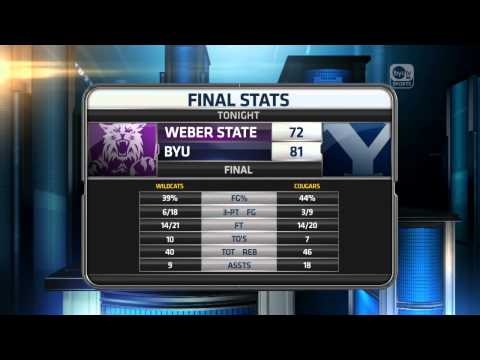 View 36 Items

I think we really benefited from a lot of missed shots. Our guys were really dialed in for the first 10 minutes of that game and we were really engaged defensively. We gathered those defensive rebounds and then we just kind of took off.

—BYU coach Dave Rose
PROVO — BYU opened the regular season with a hard-fought 81-72 win against a dogged and resilient Weber State team Friday night at the Marriott Center.
A couple of decisive runs, a new focus on offense along with some old familiar aspects all contributed to the win.
Tyler Haws led the way with a game-high 28 points and a career-high 13 rebounds. Matt Carlino chipped in 22 points and six assists while Kyle Collinsworth paced the team with 11 points, 10 rebounds and six assists.
Weber State was led by Kyle Tresnak and Davion Berry, who had 24 and 23 points respectively.
The Cougars set the tone early with a 17-3 run out of the gate, featuring a lot of hard drives from the backcourt and finishes at the rim.
"I think we really benefited from a lot of missed shots," said BYU coach Dave Rose. "Our guys were really dialed in for the first 10 minutes of that game and we were really engaged defensively. We gathered those defensive rebounds and then we just kind of took off."
BYU's first-half effort involved relentless drives to the hoop from the backcourt and relatively few jump-shots. The team finished the half with just five attempts from behind the arc and converted three of those attempts.
"You'll see that this is a real emphasis with this group," Rose said of the emphasis to drive the ball to the rim. "I think it can really help us early in the year and with our ability to score and get to the free-throw line."
Weber fought back and closed to within 44-33 at the half and continued to close strong in the opening minutes of the second half.
Three minutes in, the Cougars found their lead cut to just 46-40 before a blocked shot from center Eric Mika seemed to rally the team toward another run. Rose termed the play as "big time" and credited Mika's second-half effort as a spark the team needed.
"Eric made a couple of big-time plays," Rose said. "He made a couple of really big baskets for us and altered quite a few shots in the second half at the rim. … I think the sky's the limit for him."
From there, BYU mounted a 15-1 lead to put it at 61-41 at the 12:57 mark and seemingly poised to coast to victory.
But Weber kept coming. Eight straight points from Berry in under a minute found the Wildcats nipping at the Cougars' heels again.
"It's a sign of a really well-coached team and a team that has a lot of heart and fight," Rose said of Weber's comeback efforts.
Weber kept coming but could never get within eight points for the duration of the contest — ultimately losing by nine points.
Despite the loss, Weber State coach Randy Rahe came away impressed with his team's effort.
"I was really proud of our kids," Rahe said. "I thought we fought. I thought we stayed together and I thought we showed some signs that we have a chance to be a pretty good basketball team."
With the win, BYU begins the season 1-0 and will next travel to Palo Alto to take on Stanford this coming Monday. Next up for the 0-1 Wildcats is a road game against Colorado State on Nov. 16.
Email: [email protected]
Twitter: @BrandonCGurney