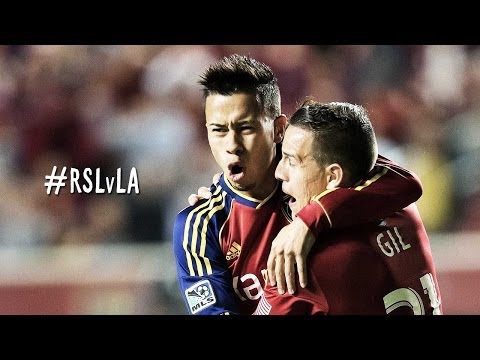 View 44 Items




For me I think it's a great feeling to contribute and help the team win against L.A. Obviously I wanted to get a goal, but I think the most important thing was to win, and if I had been able to choose when to score a goal today would've been perfect.

—Sebastian Velasquez, RSL midfielder
SANDY — Sebastian Velasquez sure knows how to seize a moment.
Given the starting nod in Game 2 of the Western Conference semifinals because of an injury to Ned Grabavoy, the second-year Real Salt Lake midfielder made a huge impact, scoring the series-tying goal in the 35th minute on a wonderful cross from Chris Wingert.
It was the first goal of his MLS career.
"For me I think it's a great feeling to contribute and help the team win against L.A.," said Velasquez. "Obviously I wanted to get a goal, but I think the most important thing was to win, and if I had been able to choose when to score a goal today would've been perfect.
"It's a moment I'm always going to cherish, but at the end of the day we still have the playoffs to play and we still have another game so we have to keep our minds."
The 90-minute performance — he was subbed off just before overtime — wasn't his first playoff appearance. Velasquez replaced Grabavoy in the second half in Game 1 on Sunday.
He made huge contributions in that game as a sub, but his contributions in Game 2 were better than anybody could've expected. Not only did he score the only goal in regulation, but he was active the entire match and added a very creative, dynamic element to RSL's diamond midfield.
RSL captain Kyle Beckerman said his contributions were huge and added that the young player is only going to get better.
"The main thing you'll see is he'll be refined. As he gets older and gets more games he's going to be a bit sharper. We'd like to get him on the score sheet more," said Beckerman.
Perhaps it's only fitting that Velasquez made a splash against the Galaxy. As a rookie last season, he was in the starting lineup in the season opener at Los Angeles because of an injury to Javier Morales and impressed everyone with his skill on the ball.
Nearly two years later, he showed off his skill in the air as he headed home Wingert's cross on a platter.
Comment on this story
"We have quite a few guys on this team that would literally run through that wall if the coaching staff asked him," said RSL coach Jason Kries. "He's an extremely hungry player that has some real gifts. Sometimes it's difficult to get some of those gifts to come out of him, and tonight I think he took a major step forward. There was no kind of kowtowing to the veteran players around him. He just stepped forward and said, 'I'm going to have an impact on this game in some way,' and he did in a major way."