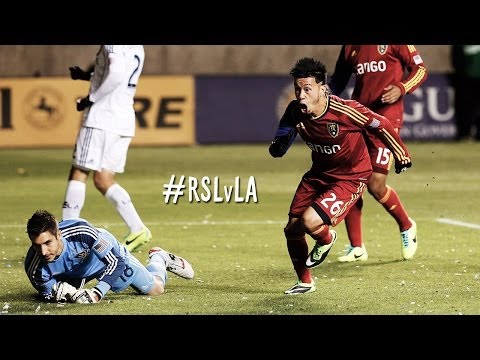 View 44 Items




Sorry, L.A., there's no movie ending to this. There's an MLS casting call out and it doesn't involve Hollywood, after all.
SANDY — A delirious crowd. Players leaping on one another's backs. The music booming way too loud.
What took them so long?
Finally, Real Salt Lake overcame its home field mind problems, Thursday night, with a 2-0 win over Los Angeles. The two-goal win was needed, as it gave RSL a 2-1 aggregate score in the two-game series.
Beyond that, it gave RSL a chance to overcome the big problem it has had since the house went up.
It can win elimination games at home.
As the saying goes, you think, therefore you are. Real Salt Lake thought it could advance in the MLS playoffs. It believed losing just 1-0 in the first leg on Sunday wasn't a bad deal, all things considered. Was it just positive spin or overconfidence?
Didn't matter.
Things turned out just as Real hoped they would.
Thursday was only RSL's third win in 14 home elimination games since Rio Tinto was built.
So now it's on to the Western Conference finals and the chance to really psyche some people out. The small-market team with the attitude is hanging around.
Sorry, L.A., there's no movie ending to this. There's an MLS casting call out and it doesn't involve Hollywood, after all.
The Galaxy's bid for a third straight MLS Cup has gone the way of the silent film.
You have to give it to Real, it took care of some disturbing business. That hasn't been the case all the time. In fact, until Thursday night you might have said Real was a head case when it came to defending its home turf. Good teams win at home when it counts, posers don't.
Sebastian Velasquez's header in the 35th minute and Chris Schuler's shot in the 102nd put Real in the conference finals, proving it's all in your head.
Real's biggest concern before Thursday was that it would get off to a sluggish start. The last thing it needed was to fall behind early. That could have happened, too. The Galaxy had some chances, when Robbie Rogers got two makeable shots that went wide.
Still, it was RSL that controlled the pace. When Velasquez scored off Chris Wingert's cross, the house went sonic. The roar that ensued might have been a cheer, but could just as easily have been a huge sigh of relief.
From coach Jason Kreis.
Velasquez celebrated just the way someone should on his first-ever MLS goal. Suddenly his bristly '80s haircut — ponytail included — looked totally in style.
Then there are his tattoos.
Velasquez gets tatted every time he scores a goal, but the way RSL played down the stretch, it looked like everyone wanted to visit Rodmanville. The Velasquez tattoo count will now be a happy half-dozen. Had not Schuler's header hit the crossbar and Alvaro Saborio's blast pinged off the left of the post, it would have been an early rout.
RSL tweeted out pictures of the MLS Cup in the 80th minute, just to tantalize the crowd. Five minutes later a foul on Real delayed an additional score — momentarily. But in extra time Schuler wouldn't be denied, looping far and wide to take Javier Morales' cross and guide the ball home.
The sound at Rio Tinto could be heard all the way to, well, Rio Tinto's copper mine in the Oquirrhs.
RSL's main aspiration was to tally early and raise the prospect of a shootout by getting the goal back that it gave up in Los Angeles on Sunday.
Velasquez's score ended a 370-minute scoring drought in the MLS playoffs, dating back to 2011. That's a long wait. But that's nothing compared to Real's wait to win a cup of some sort. That has happened just once in its existence, the 2009 MLS Cup.
Yes, RSL was saying it was time for another.
The momentum turned serious in the 66th minute when keeper Nick Rimando made a diving save on Landon Donovan's rebound shot. The Galaxy was finished.
Because the aggregate score stood at 1-1 after regulation, the game went to a pair of 15-minute extra time periods. But in the 102nd minute, Schuler made a wide loop and sprinted at the right post, taking Morales' cross and burying the shot. It was all over.
So was that talk about Real being in good shape after a loss in Los Angeles just blather?
Apparently not.
All RSL had to do was think about it.
Email: [email protected]; Twitter: @therockmonster; Blog: Rockmonster Unplugged