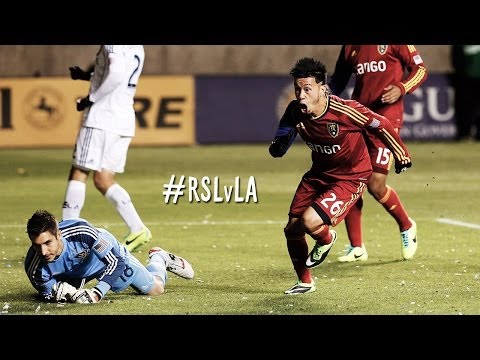 View 44 Items




This was a game we've been wanting to have in those big games in the past. Tonight we proved we could show up in them. If we play like that with that commitment and energy, it's going to be very hard to beat us.

—Nick Rimando, RSL goalkeeper
SANDY — Real Salt Lake exorcised some demons in a big way Thursday night.
After failing and failing and failing in big opportunities in the five-year history of Rio Tinto Stadium, RSL finally figured out how to win the big game at home.
Real Salt Lake reversed a one-goal deficit from the first leg with a 2-0 overtime victory in the second leg to knock off the two-time champion L.A. Galaxy 2-1 on aggregate and advance to the Western Conference final.
"This was a game we've been wanting to have in those big games in the past. Tonight we proved we could show up in them," said goalkeeper Nick Rimando. "If we play like that with that commitment and energy, it's going to be very hard to beat us."
Second-seed RSL now advances to the West final and will face No. 1 seed Portland. The first game will be this Sunday at Rio Tinto Stadium at 7 p.m., and the return leg will be in Portland on Sunday, Nov. 24 at 7 p.m.
In a small way, the victory washed away franchise frustrations revolving around failing to win the big games at home against Monterrey, Seattle, New York, D.C. United and Dallas through the years.
Two unlikely goalscorers helped punch RSL's ticket to the conference finals. Sebastian Velasquez headed home his first career goal in the first half to level the series at 1-1, and then defender Chris Schuler buried the dramatic winner in the 12th minute of overtime as he latched on to a Javier Morales free kick.
RSL had to sweat out the final 10 minutes with only 10 men after Alvaro Saborio left with an injury, but managed to survive the L.A. Galaxy onslaught.
Despite the anxious moments, RSL coach Jason Kreis said minute 110 to 120 wasn't much different than minute one to 110.
"The energy on both sides of the ball: When we had it the movement was spectacular — there were players that were wanting to get forward and take opportunities to take risks — and the amount of work they put in defensively was absolutely spectacular, especially in the midfield," said Kreis.
There were moments when Kreis no doubt thought it wasn't going to be RSL's night again in a big game — when Schuler hit the crossbar, when Saborio hit the post or when a goal was disallowed by a "phantom" Schuler foul — but his guys fought through all the adversity.
"It says a lot about this club and the players on this team, just our effort tonight," said Rimando.
Even though RSL was reminded of past failures all week, the players took the field with confidence and it showed as they dictated the flow all game.
Still after a half-hour of outstanding soccer, RSL still trailed by a goal in front of 19,042 rowdy fans.
The breakthrough Real Salt Lake desperately needed finally came in the 35th minute from arguably the most unlikely player on the field.
Velasquez — who had never scored an MLS goal and was only starting because Ned Grabavoy was injured — slipped in between L.A.'s two towering center backs and headed home a perfect Chris Wingert cross to give RSL the 1-0 lead.
"To get that goal in the first half was giant for us. It took a big, big monkey off our backs," said Kreis.
The Galaxy had been playing very compact through the first half-hour, but a quick switch of the field by Morales allowed Wingert to run into space and he made the most of it with two quick touches on a wonderful cross.
"I remember the play I saw Wingert take a touch back and he crossed it, and I saw Robbie (Findley) made first post run and Omar (Gonzalez) went with him and I was just by myself, so I just kind of put my head into it and it went in the back of the net. It was an amazing feeling. I'm never going to forget that moment," said Velasquez.
RSL kept the match level on aggregate until halftime, a big accomplishment because 44th-minute goals against Monterrey and D.C. United in past finals were the club's undoing.
The Galaxy had a wonderful chance to go back in front in the 65th minute after Rimando spilled a rebound from Roggie Rogers, but incredibly RSL's 'keeper was able to gather himself a split-second later to make a point-blank save on a Landon Donovan shot.
"At this time of the year you need players like Rimando, Beckerman, Morales, Saborio to step up and make huge plays — Borchers, Schuler included — and all of those guys did everything and anything possible to win this game," said Kreis.
The winning goal finally game in the 102nd minute of soccer as Schuler slipped in behind Galaxy defender Sean Franklin at the far post and buried Morales' free kick to send Rio Tinto Stadium into pandemonium.