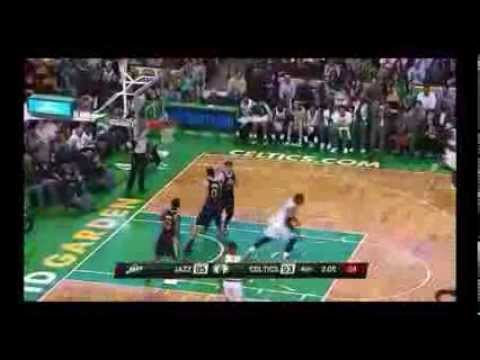 View 4 Items

CHICAGO — If anybody in Jazzland needs a positive pick-me-up as the local favorite NBA team struggles to remember how to win, there was something to latch on to toward the end of Wednesday's loss in Boston.
And, yes, this stormy season is shaping up to be one in which silver linings need to be pointed out.
Small moral victories might be the only thing fans have to cheer for until the Jazz get improved point guard play, fewer mistakes are made by learning-on-the-fly youngsters, injured rotation guys return and/or the Jazz trade for an elite scorer.
After playing one of the worst quarters of hoops this side of pick-a-junior-high-junior-varsity-team and falling behind by 25 points to the then-winless Celtics, the Jazz displayed something that offers a glimmer of hope in some dreary basketball times.
Some fight.
Utah trailed by 22 points entering the fourth quarter and by 19 with just under 10 to play when Enes Kanter subbed in for Derrick Favors, who's been struggling offensively. The Turkish center ignited an interesting lineup, which also included Gordon Hayward, Alec Burks, Mike Harris and rookie Ian Clark.
Five minutes later, the Jazz were within six points after an 11-0 run.
"I thought the guys showed some fight in the end of the game to fight their way back and have a chance," Jazz coach Tyrone Corbin said. "We had some opportunities at the end. … I liked the fight in the end, but the focus in that second quarter, that really hurt us."
Utah ended up losing, of course, becoming the first team in Jazz franchise history to begin with five consecutive losses since the inaugural New Orleans squad opened 0-11 in 1974.
At least the Jazz took something positive out of Beantown, where Boston improved to 1-4 in large part due to outscoring Utah 27-8 in that dreadful second quarter. That overshadowed another highlight of this game: a quick start, which led to an early 13-point lead.
Eventually, though, even Hayward's reunion with his old coach and mentor from college was spoiled by the fact that Brad Stevens' new team beat his former star's skidding squad.
The Jazz's young leader tried to accentuate positive despite the fact the fourth-year competitor is going nuts losing so much.
"I think you remember the comeback. We gave ourselves a chance," Hayward said after totaling 28 points, nine rebounds and five assists. "But a loss is a loss."
So far, the Jazz have lost in a variety of ways — a solid showing in the opener against Oklahoma City but too much Kevin Durant; the heartbreaking last-second loss in Phoenix; a second-half meltdown at EnergySolutions Arena against the Rockets; and blowouts to a supposed contender (Nets) and an expected lottery challenger (Celtics).
This weekend doesn't look promising, with the Jazz visiting Derrick Rose and Carlos Boozer on Friday at the United Center and enduring their fourth road game in five nights Saturday in Toronto.
"Whatever it is, we've got to figure it out, because Chicago's going to be no different. Toronto's going to be no different," Hayward said. "Each team will look to bury us, so we've got to figure something out."
With eventual starting point guard Trey Burke still sidelined with his finger injury, Corbin admitted he might look for alternative playmaker options.
In Wednesday's comeback attempt, Hayward, Burks and Clark each took turns handling the ball and/or defending the C's point guards. Veteran point guards John Lucas III and Jamaal Tinsley are both off to rough starts to the season.
"Maybe," Corbin said when asked if he'd consider using Hayward or Burks at the point as an alternative quick fix. "Because I thought we had a little bit more offensive punch in the group."
The Jazz coach is hesitant, though, because he doesn't prefer to use the players out of their natural positions.
Overall, Corbin is taking an all-hands-on deck approach, with Burke, Marvin Williams, Jeremy Evans and Andris Biedrins being out and Brandon Rush not quite ready to play daily.
"We've got to make sure we use everything that we have," Corbin said. "We're short-handed. We need everybody to be ready to go."
In the meantime, the Jazz will continue to play this season with an eye toward the future. This year is more about helping the five foundation players develop than anything else.
The hard part about that, though, is trying to keep players fully interested and motivated while they're piling up losses. Part of the learning process, of course, is learning how to win, not just how to fill up the stat sheet or getting minutes.
"It's a year of learning. We want to make sure we're growing every night we step out there," Corbin said. "I think they're getting used to it. Derrick and Enes (are) in starting roles for the first time. Gordon (is) starting primarily after being off the bench. … Alec's increasing his minutes on the floor.
"They're closing games for us. It's a learning process. It can be frustrating just not getting any reward for all the work you're putting in, but we have to stay in it to make it happen."
Hayward echoed his coach, using the word "frustrating" multiple times in the visitors locker room at TD Garden on Wednesday night.
"It's the little things that we aren't doing, and that's why we're losing basketball games. We've got to pay a lot more attention to detail," Hayward said. "We have the talent. That's not a question. We have the talent to win basketball games. We're just not doing the little things, the details. Our focus is not there for the full 48 minutes."
When that happens, Hayward said that other NBA teams "punish that," as has happened five times in a week.
"I think it is a little bit part of the learning process," he said. "But that's just on us as professionals to get it together and figure this out or else it's going to be a long season."
EMAIL: jody@desnews.com
TWITTER: DJJazzyJody