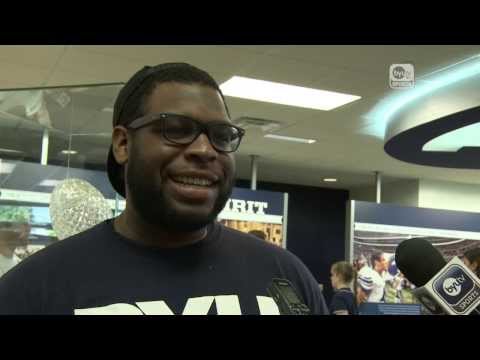 View 3 Items


There's some big boys we'll be going up against. No doubt. I believe this is going to be a big test for us and I'm excited. I've just been excited to contribute anywhere for this team, but yeah, I'm real excited for this game. We all are.

—Marques Johson, BYU defensive lineman
PROVO — It took longer than some expected, but junior college transfer Marques Johnson is making a significant contribution on BYU's defensive front.
The El Camino (Calif.) Junior College product has seen his reps increase steadily with every game this season. He has played primarily at nose tackle, spelling starter Eathyn Manumaleuna, but recent contests have seen him take a majority of reps at nose tackle while Manumaleuna has played primarily at defensive end.
Johnson's recent emergence couldn't have come at a better time.
With BYU preparing for a rare competitive November game against Wisconsin, quality depth up front will be paramount.
The Badgers present few frills with their offensive attack — preferring to run the ball right at opposing defenses with an offensive line that averages around 320 pounds per player. The approach has produced a 287-rushing-yards-per-game average along with an outstanding 6.7-yards-per-rush average.
"There's some big boys we'll be going up against. No doubt," Johnson said. "I believe this is going to be a big test for us and I'm excited. I've just been excited to contribute anywhere for this team, but yeah, I'm real excited for this game. We all are."
FITTING IN OFF THE FIELD: Johnson's recent strides at fitting in, and finding a place, seem to run concurrent with him feeling comfortable at BYU away from the football facilities. It's not always an easy task for minority, non-LDS athletes to fit in with BYU's unique culture, but Johnson has the right social makeup for it.
"I like quiet and I like time just to study, read and relax. I've found BYU is perfect for that," Johnson said. "It's part of the reason I came here in the first place, but it's definitely been a challenge adapting to what this place is. Now that I've been here awhile, I love it."
Johnson signed with BYU prior to the 2012 season, but was forced to redshirt due to injury. The redshirting process made his acclimation more challenging.
"It's not easy feeling you're part of everything when you're out with injury," Johnson said. "You want to help the team so much, but you can't, and that's really hard. Meanwhile you're trying to adjust to school, the new environment. It wasn't the easiest year for me sitting out, but I'm stronger for it now."
STRENGTH ON STRENGTH: In recent contests, BYU defensive coaches have frequently employed a jumbo front consisting of Johnson at nose tackle, Manumaleuna at end and true freshman Merrill Taliauli at the other end. That's more than 900 pounds of mass for an offensive line to contest with.
It would seem natural that coaches would employ this front against Wisconsin's smash-mouth offensive attack.
"I don't know if they started playing all three of us for that reason, but I love it," Johnson said. "I mean, having Eathyn there with me (and Taliauli) — that's a lot of strength and I feel we play real well together. It's just another look we can throw at a defense and we'll see how it goes against Wisconsin."
Email: [email protected]
Twitter: @BrandonCGurney