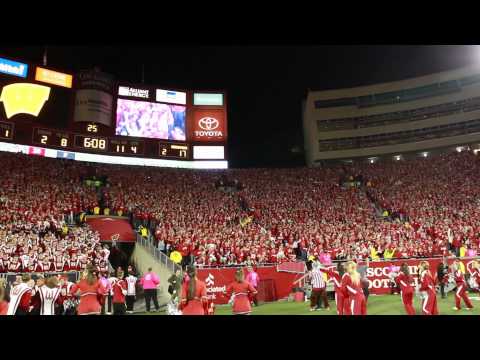 View 5 Items



It gives us an extra boost ... to come home and have that advantage, to know that the other team has to deal with that adversity. Our crowd is very educated. They know when to cheer and when to get loud and do everything they can to help us move the right direction. It's a special opportunity to play in front of all of those people.

—Gary Andersen, Wisconsin football head coach
MADISON, Wis. — It's been nearly one month since Wisconsin has played at its beloved 80,321-seat Camp Randall Stadium.
The No. 21 Badgers, who host BYU Saturday (1:30 p.m. MST, ESPN), are eager to be at home again after not having played here since a 35-6 victory over Northwestern on Oct. 12.
The only longer break between home games in school history was a 35-day gap in 1934.
Wisconsin owns one of the best home-field advantages in college football. The Badgers have won 28 consecutive home games against nonconference opponents, dating back to the 2006 season.
And Wisconsin doesn't lose often at home late in the season. Since 2006, the Badgers have a 20-5 record at home in the month of November.
First-year Wisconsin coach Gary Andersen is amazed by both the support and shrewdness of Badger fans.
"It's unbelievable. It's definitely lived up to my expectations," said Andersen, the former Utah State coach. "It's powerful. It can dictate tempo. Our kids build off it. It helps them understand where they are in the game. It gives us an extra boost ... to come home and have that advantage, to know that the other team has to deal with that adversity. Our crowd is very educated. They know when to cheer and when to get loud and do everything they can to help us move the right direction. It's a special opportunity to play in front of all of those people."
Camp Randall Stadium lies on the grounds of Camp Randall, a former Union Army training camp during the Civil War. And the crowds that show up at Camp Randall have a reputation for being loud and raucous. They perform a variety of cheers, chants and dances throughout the games.
One of the many Camp Randall Stadium traditions is the "Jump Around," where fans dance to the House of Pain song of the same name between the third and fourth quarters.
During practices this week, BYU coach Bronco Mendenhall has piped in loud music, including "Jump Around," in an attempt to replicate the noise at Camp Randall Stadium.
"We just blasted music in our practice," defensive lineman Eathyn Manumaleuna said Wednesday. "It's going to be a very loud environment. We hear about their 'Fourth Quarter Jump.' It's going to be really loud and crazy. We need to keep our composure and stay focused."
"They're going to use the fans and loudness to their advantage, to mess with our up-tempo offense," running back Paul Lasike said of Wisconsin. "We're going to have to focus on every play."
Certainly, Wisconsin's home-field advantage has played a factor in its longstanding success. The Badgers have won three consecutive Big Ten championships.
"The tradition and the support and knowing that you're coming out of that tunnel with 80,000-plus people screaming and cheering for you gives you a definite advantage," Andersen said. "There's something calming about being at home. We have the best venue in the country. It's awesome. … Our kids love it. They're excited about it. It's a great opportunity to be able to play at Camp Randall."
Wisconsin's five Rose Bowl appearances in the BCS era match USC for the most trips to Pasadena, Calif., by any team since 1998. No other Big Team program has played in more than three Rose Bowls during that span.
The Badgers' implement a prototypical Big Ten style of play, featuring a physical defense and a strong rushing attack.
This season, Wisconsin boasts a pair of running backs that average at least 100 yards rushing per game — Melvin Gordon (134.3) and James White (100.5).
"That's going to be a challenge," Manumaleuna said of the Badger backs. "Not only is their offensive line huge, but their running backs are really good. And they have two. They're a great football team. Even their defense is really great. You can't show fear. You've got to go in and play your game."
The Badgers have scored 26 rushing touchdowns this season, tied for No. 10 in the country. BYU's defense, meanwhile, has allowed only four rushing TDs, which is tied for No. 3 nationally.
Wisconsin also leads the nation with eight rushes of at least 50 yards.
Meanwhile, the Cougar defense will need to keep tabs on wide receiver Jared Abbrederis, a former walk-on who was once the Badgers' scout team quarterback. Abbrederis ranks No. 22 in the nation in receiving yards per game (97.8). He averages 6.3 receptions per game.
Abbrederis has dealt with various setbacks, including a chest injury last week on a touchdown catch against Iowa, but is expected to play Saturday.
"He's a tough matchup for anybody," BYU cornerback Mike Hague said of Abbrederis. "I think he's got a really cool story, too. The guy just knows how to play football and make plays. He's a really good football player. You definitely have to know where he is at all times."