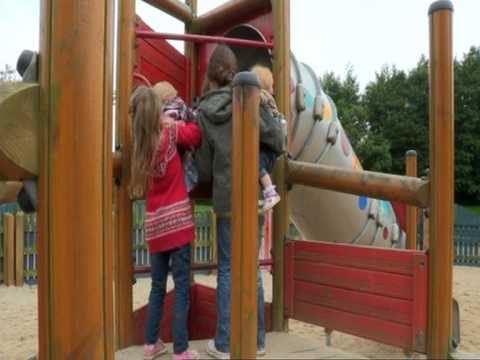 View 6 Items

It is very important to us to have our faith, it has had an effect on shaping who we are. It has helped us in our hardest times, and giving us a stronger commitment to each other.

—Emma Hann, Annabelle's mother
On Oct. 30, the Children's British Broadcasting Company re-aired a "My Life" episode dedicated to one of the largest families in the United Kingdom: a Scottish family with 12 children.
Daughter Annabelle Hann, 11, narrated the show, which captured the family's life and activities in the weeks leading up to the oldest daughter's wedding.
"With nine sisters and two brothers, my life is crazy," Annabelle said in the show. "There's lots of fun, lots of noise, and we just love being together. But everything is about to change. My big sister Rachel is getting married and leaving home, and it's the biggest thing to happen to our family."
The 28-minute segment shows the Hann family in typical situations: eating dinner, getting ready for bed and doing family chores, as well as attending meetings for The Church of Jesus Christ of Latter-day Saints.
"The church … is where we spend loads of our time," Annabelle said. "Being Mormon is a big part of our lives."
After her sister's civil wedding in an LDS Church building, Annabelle explained that they would be sealed in the Preston England Temple, which is a five-hour drive from their home in Scotland.
"After their wedding in our church, Rachel and Charles will go to a special temple in England for a ceremony calling 'being sealed,' " Annabelle said. "We believe families can be together forever, even after we die."
Annabelle explained why she enjoyed spending time on the temple grounds.
"I like being here because it's beautiful, and it's special," she said in the show. "It feels like everyone's happy when they're here."
The "My Big Family Wedding" episode of "My Life" originally aired on Feb. 26 of this year. In October, it was nominated for a Royal Television Award for Best Children's Programme (School Age), according to prolificnorth.co.uk. The family has also appeared on the U.K. show "15 Kids and Counting."
Since the wedding featured in the show, two of the Hann daughters have left to serve missions for the LDS Church, with Sophia in New Zealand and Polly serving in Oregon, according to Roy Hann's Facebook page.
"It is very important to us to have our faith," Annabelle's mother Emma said in an interview on the blog Pinkoddy. "It has had an effect on shaping who we are. It has helped us in our hardest times, and giving us a stronger commitment to each other."
Abby Stevens is a writer for the DeseretNews.com Faith and Family sections. She is a graduate of Brigham Young University–Idaho. Contact Abby at astevens@deseretdigital.com.