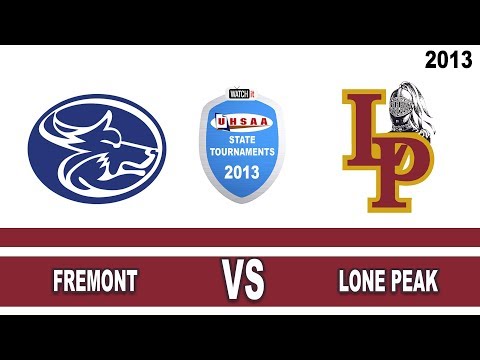 View 5 Items

From the beginning, our goal was to take region, and whatever road we had to take from there, we'd take it. ... We've been preparing for that match and it really paid off.

—McKenzie Burrows, Fremont setter
OREM — A showdown with one of the most successful volleyball programs in the state is not exactly what most region champions see as a reward for months of hard work.
But Fremont's volleyball team had a goal to win the Region 1 title this season. Where that put the Silver Wolves in the state tournament, they didn't care.
Unfortunately it meant meeting Lone Peak, one of the most successful volleyball programs in prep history, in their first match of the 5A state tournament Thursday afternoon.
"From the beginning, our goal was to take region, and whatever road we had to take from there, we'd take it," said senior setter McKenzie Burrows after the fourth-ranked Silver Wolves beat powerhouse Lone Peak in a five-set thriller, 32-30, 18-25, 25-16, 23-25, 15-12. "It was an emotional game. We were all really excited and ready to go. It was a tough game. We've been preparing for that match and it really paid off."
The Knights' history is impressive.
Lone Peak head coach Deanna Meyer has led the Knights to the title game every year but one in the last decade. The Knights are young and inexperienced this season, but they still managed to beat both the second and third seeds at least once in region play.
The Fremont squad, playing for a program that has never been to the state championship match in school history, did what only one other team had managed since 2003.
"We have all the respect in the world for them," said Fremont head coach Brock Mitchell after the Silver Wolves followed up their victory against Lone Peak with a sweep of Alta (25-9, 25-10, 25-19) in the quarterfinals. "The girls knew that it would be tough going in."
Just how tough, maybe no one could predict, but the first set against Lone Peak was indicative of how every point would be a hard-fought battle.
"That first game was kind of the key to the whole thing," Mitchell said of the 32-30 win. "We were down four points, and then to go into the extra points, and win, I think that was huge. It's always hard to beat a really good team two straight sets. To get the leg up, it kind of gave us that early advantage."
It also gave the Silver Wolves confidence that they could not only compete with Lone Peak, but they could beat them. Which is why when Fremont lost a lead in the fourth set, it didn't panic.
"We know one ball can turn the tide," Mitchell said. "We had a 23-20 lead and we let that one get away. But they maintained their composure, and we were able to pull it out."
Burrows was stellar in running the Silver Wolves' offense, finishing with 49 assists, four aces and three kills. Senior Brooke Lamb led the way offensively with 12 kills, and she also had 12 kills against Alta. Junior Jessica Snarr added 10 kills, and finished with seven blocks in the two matches. Senior middle blocker Amanda Wayment earned 10 kills and two block assists against Alta, while Jessica Quayle added 10 kills and five digs in the win over Alta.
Comment on this story
Both coaches and players are thrilled to have earned not only that victory against a powerhouse program, but also a berth into the semifinals for the first time in eight years.
"I couldn't be more proud of them," Mitchell said. "This has happened once in all of Fremont's history. … It's a matter of pride for this community. We've never made it to the state finals. We're looking forward to doing something new."
It doesn't get any easier for the Silver Wolves as they take on top-ranked Pleasant Grove at 10:30 a.m. in Saturday's semifinal round. Lone Peak and Alta are playing in consolation play.
Twitter: adonsports
Email: adonaldson@deseretnews.com