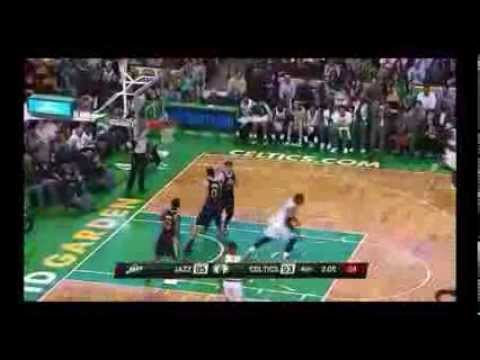 View 7 Items

It's the little things that we aren't doing, and that's why we're losing basketball games. We've got to pay a lot more attention to detail.

—Gordon Hayward
BOSTON — Utah Jazz fans are witnessing history in the tanking.
Months after management overhauled the roster, opting for youth development over bringing veteran players back to win now, the Jazz have stumbled to their worst start in four decades.
Wednesday's 97-87 loss to a Boston Celtics team, going through a parallel rebuilding route on the other side of the country, was a new low for the Utah era of this franchise.
Not only did the Jazz lose a game in which they had an early 13-point lead, but the defeat came against the previously winless Celtics, who seem to be one of Utah's toughest challengers for a high lottery pick in the coveted 2014 NBA draft.
Making it worse, this 2013-14 Jazz team has forever linked itself to the inaugural Jazz squad.
For the first time since 1974, back when New Orleans had some Jazz and players named Pete Maravich, Rick Adelman and Bernie Fryer, this organization is off to an 0-5 start.
"It's just disappointing that we allowed this to slip away," Jazz coach Tyrone Corbin said. "We're in a bad stretch right now, losing five games in a row."
No Jazz team since the first one in Utah back in 1979 had dropped as many as four consecutive games to begin a season. This squad did that after blowing chances against Oklahoma City and Phoenix in three-point losses, squandering a 19-point lead in a 30-point turnaround setback at home to Houston and then getting annihilated in Brooklyn on Tuesday.
This loss against Boston, which gave Gordon Hayward's old Butler coach Brad Stevens his first win, keeps the short-handed Jazz in contention for the franchise's all-time worst start of 0-11.
It also put Utah in sole possession of last place in the NBA.
Or first place in the pingpong ball chase for next spring's lottery, depending on how you want to view it.
"It's frustrating. It's very frustrating," Hayward said after contributing 28 points, nine rebounds and five assists. "It's the little things that we aren't doing, and that's why we're losing basketball games. We've got to pay a lot more attention to detail."
This particular defeat might have stung the most because of some ugly details. The Jazz's early double-digit lead was eviscerated quickly in the second quarter when Utah scored a meager eight points on 4-for-17 shooting with seven turnovers.
"I thought they did a good job moving the basketball," Hayward said, crediting Stevens for emphasizing that in college. "They ran out on us there in the game a little bit. We dug ourselves too deep of a hole."
How deep?
So deep the Jazz couldn't even surmount it against a Celtics team that's already botched a 22-point advantage this season.
The Jazz eventually fell behind by 25 points to a Boston squad that now features Brandon Bass (20 points) and Jeff Green (18 points) instead of the departed Kevin Garnett and Paul Pierce and an injured Rajon Rondo.
"It was a tough loss. Tough loss. Eight points in the second quarter," lamented Corbin, whose team has lost six straight, dating back to last season, and hasn't won since an April 15 victory over Minnesota.
"I thought we got off to a pretty good start, but eight points in the second quarter costs you the ballgame. They made a run and I thought we lost our energy there."
There were some positives for Utah, including how the Jazz made a late run to get within six points after Enes Kanter hit a layup to make it 89-83 with 4:29 remaining.
Kanter nicely complemented Hayward, scoring 22 points with eight rebounds and igniting a struggling Utah team early in the fourth quarter. The Jazz went on an 11-0 run when the Turkish center replaced Derrick Favors (10 points, 14 rebounds) with just under 10 minutes remaining in an odd-but-effective lineup, which also included Hayward, Alec Burks, Mike Harris and Ian Clark.
"We came back," Kanter said. "But it was too late."
The same old Jazz problems resurfaced in crunch time, with a couple of costly turnovers, missed shots and just four points in the final 4:39.
And just like that, this Jazz squad entered the history book with the first group that went on to a 23-59 record.
The Jazz have one day to regroup before heading to Chicago (Friday) and Toronto (Saturday) to wrap up the only four-games-in-five-nights stretch of the season.
"We have two more tough ones on this road trip and we're still short-handed, but you know what, nobody's going to feel sorry for us," Corbin said. "We've got to make sure we don't feel sorry for ourselves and continue to fight and stay focused and give everything we have once we're on the floor."
NOTES: The Jazz were again without Trey Burke (finger), Marvin Williams (Achilles), Jeremy Evans (shoulder) and Andris Biedrins (ankle). ... Shooting guard Brandon Rush did not play after logging 10 minutes Tuesday in Brooklyn. He said his knee felt fine and experienced no swelling, but Corbin said the team wanted to limit his play on the second night of a back-to-back. Rush hadn't played in a year after tearing the ACL in his left knee on Nov. 2, 2012 and having surgery in January. … Utah will not practice Thursday. … The Jazz outscored the Celtics 25-13 in the fourth quarter after being outscored 27-8 by the Celtics in the second.
EMAIL: [email protected]
TWITTER: DJJazzyJody