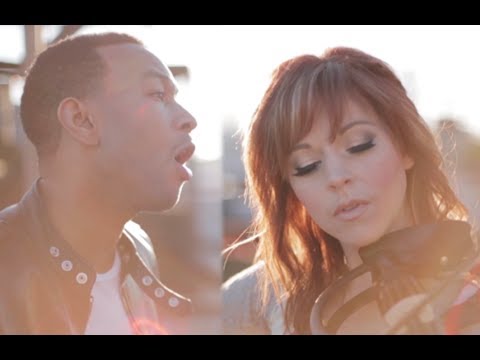 View 9 Items


Coming from a YouTube perspective, a lot of times you kind of limit yourself and think, 'Oh, artists from the real world wouldn't want to work with someone who's made their career on YouTube. But more and more, I'm realizing that artists from both sides are learning that we can benefit from each other.

—Lindsey Stirling, on working with musician John Legend
Since finishing her latest tour in August, hip-hop violinist and YouTube sensation Lindsey Stirling has kept herself busy. In the past month, she has performed on the "Conan O'Brian Show," joined with musician John Legend in a music video, appeared on Katie Couric's TV show, won a YouTube music award and appeared as a contestant on the Web series "Dance Showdown," just to name a few.
On Sunday, Stirling won the first ever "Response of the Year" YouTube Music Award for her cover of "Radioactive." She also is one of eight YouTube competitors who are competing in "Dance Showdown," which started this week.
But she continues to work with other artists and stay active on social media. Her latest collaboration had her and Legend playing together in a music video for his single "All of Me."
"Coming from a YouTube perspective, a lot of times you kind of limit yourself and think, 'Oh, artists from the real world wouldn't want to work with someone who's made their career on YouTube,' " Stirling said in an interview with USA Today. "But more and more, I'm realizing that artists from both sides are learning that we can benefit from each other."
Stirling was a quarter-finalist on "America's Got Talent" in 2010, where she received harsh criticism about her dancing violinist act. One of the judges, Piers Morgan, said Stirling's playing and dancing sounded like "drowned rats being strangled."
"[That] wasn't what every girl wants to hear on live, national TV," Stirling said in her interview with Couric. "It took basically everything inside of me to not just burst into tears. I just held it in, and afterwards I honestly considered, 'This was a really bad idea trying this dancing violin thing. Maybe … I should try something else.'"
But Stirling decided to stick with her original act and continue to improve it.
"It came down to the fact of, no, I just need to get better. I need to work really hard so that no one ever says that again," Stirling said to Couric. "Once I got over the initial hurt and shock, it gave me a lot of motivation. [And] you know, I just re-released my debut album, and in it there's a 'Thank You' section, and I actually thanked Piers Morgan for giving me the strong motivation to prove someone wrong."
Stirling started her YouTube channel in 2007, and she now has almost 3.5 million subscribers. In 2012, her original music video, "Crystallize" ranked No. 8 on top trending YouTube videos, according to YouTube Trends.blogspot. Currently, Stirling is working on new music for a new album.
Abby Stevens is a writer for the DeseretNews.com Faith and Family sections. She is a graduate of Brigham Young University–Idaho. Contact her at [email protected].