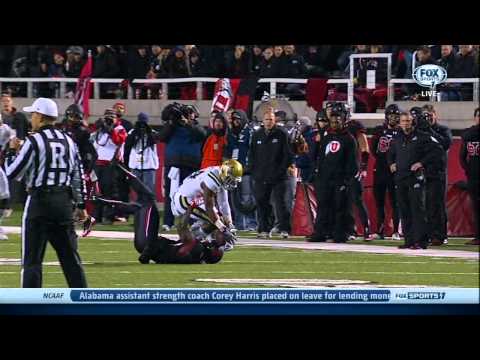 View 2 Items

In our four losses in the Pac-12, we've had 15 turnovers. That can't happen. The league is too good to hope to win if you're going to turn the ball over at that rate.

—Kyle Whittingham
SALT LAKE CITY — When it comes to gauging Utah's success in the Pac-12 this season, turnovers and takeaways pretty much tell the story. When the Utes won the turnover battle against Stanford, they earned a 27-21 victory over the then fifth-ranked Cardinal.
As for the other games, where the margin was even or in a deficit, there are only setbacks.
"In our four losses in the Pac-12, we've had 15 turnovers. That can't happen," said Utah coach Kyle Whittingham. "The league is too good to hope to win if you're going to turn the ball over at that rate, particularly when we're not getting a great deal of takeaways on defense."
The Utes have just four takeaways in their conference losses — two against both UCLA and Arizona, none against Oregon State and USC.
In the upset win over the Cardinal, Utah won the turnover margin 2-1.
"If we can move the chains and protect the football like we did against Stanford then I think we've got a very good chance," Whittingham said as the Utes prepare for Saturday's game against 23rd-ranked Arizona State at Rice-Eccles Stadium.
And that's exactly what quarterback Travis Wilson aims to do. He's no longer wearing a protective glove on his throwing hand and said he's healthy after the bye week.
Wilson threw two touchdown passes and was intercepted once in the Stanford win. Over Utah's four Pac-12 setbacks, however, the starter has been picked off 13 times and tossed just five scoring strikes.
"It's definitely been discouraging how many turnovers we've had in conference play," acknowledged Wilson, who added that he needs to make smarter decisions.
The sophomore noted that his hand is feeling great and he's having a solid week of practice.
"We did a good job taking care of it and getting treatment on it," Wilson said. "I'm really excited to play this weekend."
Co-offensive coordinator and quarterbacks coach Brian Johnson likes what he's seeing out of Wilson.
"He's good. He's spinning the ball well," Johnson said. "So I think the couple of days off over the weekend really did some good for him and he's in a good place. So he's just got to be ready to go out there and execute on Saturday."
Statistically speaking, there's a lot weighing on it.
After Tuesday's practice, Whittingham reiterated the importance of finishing with more takeaways than turnovers.
"It's been huge. In our four losses, I've said it a bunch of times, we've turned the ball over way too often — 15 times," he said. "And in the games that we've won — the four wins (Utah State, Weber State, BYU and Stanford) — we're in the plus column of the turnover margin."
It's pretty simple, really.
"If you win the turnover margin you've got a great chance of winning," Whittingham said.
Defensive leader Trevor Reilly, who tops the Utes with 69 tackles, 11 tackles for loss, 5 1/2 sacks and three fumble recoveries, notes there's a sense of urgency to get things right.
At 4-4 overall, Utah needs two more wins to become bowl eligible. The first hurdle comes Saturday against ASU.
"This is like a championship game for us," Reilly said. "We've got four more. We want to win all four, but we've got to win two and this is a great step considering it's a home game."
Email: [email protected]
Twitter: @DirkFacer