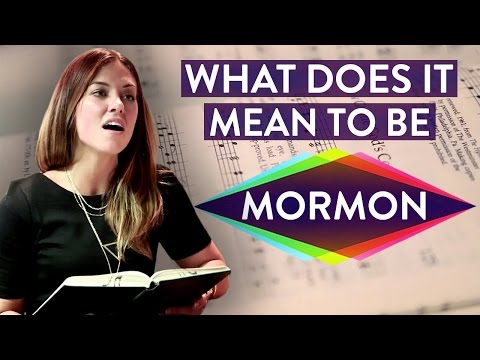 View 8 Items

My only previous exposure to Mormons was when I worked at Disney World, and all the Mormons that worked there were the friendliest people, like they came right out of a Disney movie. I want to know what Mormonism is all about.

—Zach Anner
An LDS couple from a young single adult ward was recently featured in a video produced by SoulPancake, a company founded by Rainn Wilson of NBC's "The Office." The video's host, Zach Anner, has conducted many interviews with people of different faiths in an effort to spread knowledge of religious beliefs.
The YouTube segment, "Have a Little Faith," debuted last month and has already released several interviews. Previously, Keller spoke with Mendy, a Hasidic, Orthodox Jew; Suhad Obeidi, director of Operation Muslim Public Affairs; and many others, including Kylee Johnson and David Rampton regarding The Church of Jesus Christ of Latter-day Saints.
In the first episode of "Have a Little Faith," Anner explained why he is interested in learning about religious beliefs.
"I'm Zach, and I have no faith. Religion is such an important part of many people's lives, and I don't understand it at all — but I want to," Anner said in his video. "I feel like the best way for me to do that is to meet people who actually believe."
Every Friday a new video discussing a new religion is published on the Soul Pancake channel, and on Nov. 1, "Mormons, Matrimony, and More!" was posted.
In the video, Anner first tells about his previous experience with members of the LDS faith.
"So, there's been a lot of stuff in the news lately about Mormons, so I thought we'd go visit some actual Mormons," Anner said in the video. "My only previous exposure to Mormons was when I worked at Disney World, and all the Mormons that worked there were the friendliest people, like they came right out of a Disney movie. I want to know what Mormonism is all about."
Anner then met up with Johnson and Rampton on a Sunday at a church meetinghouse. Their discussion ranged from scriptures and wards to missions and marriage.
When asked what made their religion different from other belief systems, Johnson spoke about The Book of Mormon.
"We have The Book of Mormon, which is an additional scripture, on top of the Bible, that basically tells the story of what was happening in the Americas while what was happening in the Bible was happening."
Rampton then spoke of Joseph Smith's role in translating the ancient scripture through revelation from God.
The topic of polygamy and the roles of women in the church were then brought up and discussed by Johnson. She said that although polygamy is not something that is practiced now, she believes there was a purpose for it during Joseph Smith's time. As for her role as a woman, Johnson said the role of being a mother is the most important thing she could do.
"I'm not an expert in this, this is strictly from personal experience," Johnson said in the video. "I think that to give a spirit the opportunity to have a body is one of the most beautiful things you can give."
When describing wards, Johnson and Rampton also described the differences with a singles ward.
"I think it's more of a transition in to college and then it becomes a 'We want them to date and be together,'" Johnson said. "Our social needs are different than a family's social needs can be."
Rampton also shared his experience in a singles ward and how it can become another form of family.
"Just being in a big city like this you can be a little lonely," Rampton said. "So when you get thrown into a ward with other people who are young and singles who don't have other family obligations, you can get together and kind of create your own pseudo-family units."
Johnson and Rampton also clarified that although they are a couple and are dating, they will remain in the singles ward until they are married. When asked if that would be anytime soon, they both admitted to having talked about marriage.
Toward the end of the video, Anner attended a social event hosted by the singles ward, referred to as a "Linger Longer," where he met other members of the LDS faith.
In recap, Anner expressed his appreciation for learning about a new religion.
"I feel like they are genuinely good people," Anner said. "I think they might be the ones to set me up with my future wife, and I'm very excited."
The YouTube video has received more than 350,000 views and many comments.
"This is such a cute and funny video," Stacey Morrel said in a comment on the video. "All of these people are doing good things and being kind and friendly. Thanks for making it!"
Email: spetersen@deseretnews.com