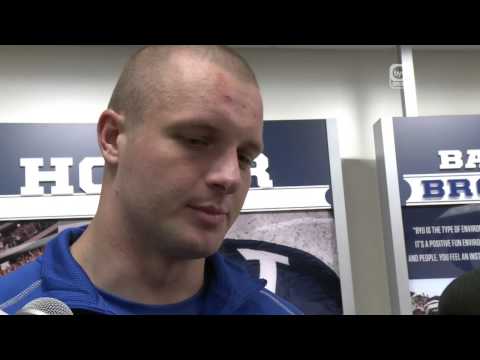 View 4 Items

You definitely get excited about this type of matchup. I feel that this is my strong point. I like playing against the run, so I think this will be a perfect week to play. It's like Georgia Tech or San Diego State from last year, so we're excited. It's a big opportunity, but I try not to stress about it.

—BYU linebacker Manoa Pikula
PROVO — Having quality depth and versatility at key positions is essential for any football team to withstand the eventual injuries that occur throughout the course of any season. Fortunately for BYU, the Cougars seem to have both of those qualities at inside linebacker.
With senior Austen Jorgensen done for the year with a knee injury, the team feels confident in its ability to replace him. Sophomore Manoa Pikula, who had been playing behind Jorgensen, steps in at buck linebacker, while senior Tyler Beck will provide relief at both the buck and Mike linebacker spots. Uani Unga will retain his starting spot at Mike.
Neither Pikula nor Beck are new to playing significant minutes. Both have logged a lot of reps this season.
"It's good to have depth and that we've all been playing a lot," Beck said. "All of us — with so much experience — I think we don't lose anything and we all play well when we need to go in."
Considering this week's opponent, both Beck and Pikula couldn't be more excited about their opportunity to have more playing time. Wisconsin presents a powerful downhill rushing attack that will test the strength and durability of BYU's interior defenders.
It's the type of matchup most middle linebackers relish.
"You definitely get excited about this type of matchup," Pikula said. "I feel that this is my strong point. I like playing against the run, so I think this will be a perfect week to play. It's like Georgia Tech or San Diego State from last year, so we're excited. It's a big opportunity, but I try not to stress about it."
While excited for their expanded roles, both players will miss Jorgensen and what he brought to the team.
"He's a great player. He's been tearing it up this year," Beck said about Jorgensen. "I was really sad when I heard he was going out since I wanted to finish with him. He's one of the only guys still here that I came in with. So it was a big bummer for us."
FUA FITS AT NICKEL: Most teams feature an extra defensive back in a so-called "nickel formation," but BYU is just fine with an extra linebacker. Rangy 6-foot-5 linebacker Alani Fua has manned the position well — demonstrating great versatility and athleticism.
"He's doing a really nice job," BYU coach Bronco Mendenhall said of Fua. "He's fast. He's athletic. And he could play safety real easy."
MORE BIG TEN PLEASE: BYU doesn't often match up against teams in the Big Ten Conference, but that's something Mendenhall would like to see changed. The BYU head coach expressed excitement about Saturday's matchup with Wisconsin and any other future matchups with Big Ten opponents.
"I love it and it's been real fun watching the Big Ten (teams)," Mendenhall said. "I'd like to schedule more and more of the Big Ten teams. It's a great fit."
ALL RIGHT WITH ANDERSEN: Mendenhall didn't have much of a relationship with Wisconsin coach Gary Andersen when he was an assistant at Utah, but that changed quickly, and quite dramatically, the second he left Utah's staff to coach at Utah State.
2
comments on this story
"It's been really good. As soon as he left (Utah) it changed," Mendenhall said. "He's been more open and normal, actually, in terms of public relations and in terms of our friendship. ... I think there's mutual respect and admiration. It just took him changing schools."
OTHER NOTES: Safety Daniel Sorensen, who sustained a concussion against Boise State, is practicing fully and is expected to start against Wisconsin.
Mendenhall wouldn't tip his hand when asked who would return punts in place of the injured JD Falslev, but receivers Skyler Ridley and Cody Hoffman have received the most work returning punts in practice sessions this week.
Email: bgurney@desnews.com
Twitter: @BrandonCGurney