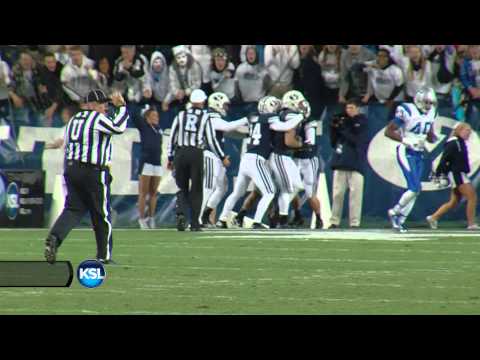 View 4 Items

PROVO — If you're JD Falslev, having a broken hand this week is far more than bones that are not whole.
A busted hand. A non-football takedown. No Wisconsin or Notre Dame.
It may not be a disaster. Can't file it under C for calamity. But it is misfortune, and in the realm of human sports tragedy, it's Shakespearean.
This is one of the good guys in Utah college football. He's your next-door neighbor's kid, a playground legend, a man-against-the-world kind of guy.
"He's a kid you'd want your daughter to marry," said David Strunk, who worked in the offseason with Falslev at Sleepy Ridge Golf Course in Vineyard.
Falslev is the epitome of a Bronco Mendenhall football player at BYU. He's driven, passionate, eager to please, a tremendously hard worker, competitive from the cleats to helmet, and has the heart of a lion. He walked on to the program and earned every second of playing time by doing grunt work, scout team duty and special teams cleanup assignments. As a result, he chiseled out a role on the Cougar team and has become a respected senior.
That's why this first week in November — a long-awaited road trip to the University of Wisconsin to make an appearance on the field at Camp Randall Stadium while playing for a team with a five-game win streak — loomed so important to Falslev and the rest of his teammates.
Then came the freakiest of freaky breaks.
During a BYU bye week and team activity, Falslev fell at a water park and broke his hand. It required surgery. His senior season is over unless he recovers in time for a bowl game in late December.
Think of the irony.
Falslev is one of the smallest players on the Cougar roster. His diminutive size is counterbalanced by an insatiable competitive bug that haunts his very being.
As a punt return specialist, Falslav has one of the most daring jobs in the game.
His assignment is to stare at a football as it arches high in the air and keep his eyes locked on it as it descends into his hands.
He can move up or back up, shuffle left or right, but he has to look at the ball in flight, knowing that there are big, fast defenders headed his way going full speed. Their primary design is to knock the snot out of him as he's deciding whether to catch or let the ball bounce on the turf.
Maybe the toughest job in football aside from that of a quarterback.
For Falslev, he's dodged big bodies, avoided major impacts; he's made a myriad big plays as a returner and slot receiver. He's put in a ton of time with his best friend and golfing buddy, quarterback Taysom Hill, running routes and catching passes.
But, after a kind of slip in a bathtub he's sidelined for the Wisconsin game.
In my book, that's cruel.
Falslev, a senior, ranks 26th nationally in punt returns. He has 23 attempts for a 10.4 average. The national leader is Travis Carrie of Ohio with a 12.9 average. Falslev is no journeyman. Criticized at times for being conservative, Falslev has actually been very solid and dependable with few mistakes.
Falslev is capable of turning over a field to create turf advantage. He's done it his entire career.
BYU will have a tough time replacing his talent, especially his shifty change of direction, balance and experience. Though BYU may plug in Skyler Ridley or Cody Hoffman this weekend, they do so for security and sure-handedess — not the threat of gaining 10-plus yards.
"You have a guy who went from walk-on to starter to team captain. This has to be disappointing big time," said Strunk.
"He's humble. He's never been full of himself. He's always been approachable, kind and aware of other people and appreciative. His personality is that he's a bulldog, very competitive."
And he's not playing on Saturday at Camp Randall, a lifetime dream for any college player.
A shame, indeed. It's more than a poorly dealt hand.
Dick Harmon, Deseret News sports columnist, can be found on Twitter as Harmonwrites and can be contacted at [email protected].