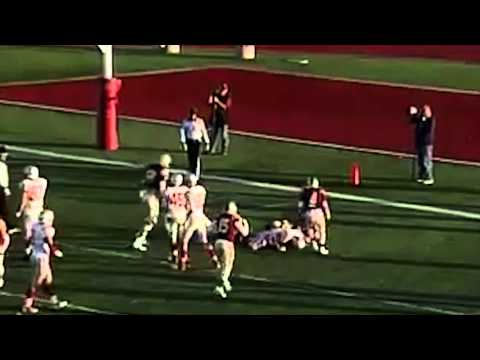 View 5 Items


I'm extremely disappointed in the lack of due process from the association. Any time you deliver a sanction or punishment that is as severe as this one, without due process and ignoring medical evidence … then the system is broken, and they're not seeking to make it right. They're seeking what's easy. … This was not a kick. This was a young man injured on a play and the state is refusing to give that any weight.

—Mike Favero, Logan High head football coach
LOGAN — Logan will take on Olympus in the 4A quarterfinals this Friday without its starting quarterback.
Senior Chase Nelson was ejected from last Friday's win over Bountiful, which automatically results in his suspension from at least one subsequent game, according to the rules governing high school sports.
Logan administrators and coaches asked the Utah High School Activities Association to review footage of the play, which occurred midway through the second quarter after Nelson ran for a touchdown. Two different officials threw their flags at the same time, calling a personal foul on Nelson for kicking at a Bountiful player who'd tackled him.
Logan officials didn't assert that Nelson did not kick his leg, only that the kicking motion was an involuntary reflexive response to pain in his knee as he tried to free himself from the defensive player's grasp.
Early Monday morning, administrators submitted a letter from head coach Mike Favero and a letter from Dr. Marlowe Goble explaining why the response would occur and why Nelson should not be suspended for another game.
The Utah High School Activities Association normally doesn't allow players to appeal ejections, so Monday's discussion was not a formal appeal.
"Our rules do not allow an appeal by the players," said Mike Petty, supervisor of officials for the Utah High School Activities Association. "In some situations, in the interest of fairness, we will review a case. It's not an appeal. But we did take a look at film from (several) different angles. We saw no evidence that shows we should overturn the ejection."
Logan head football coach Mike Favero was upset that Nelson wasn't even afforded a hearing on the ejection.
"I'm extremely disappointed in the lack of due process from the association," Favero said. "Any time you deliver a sanction or punishment that is as severe as this one, without due process and ignoring medical evidence … then the system is broken, and they're not seeking to make it right. They're seeking what's easy. … This was not a kick. This was a young man injured on a play and the state is refusing to give that any weight."
Petty said that in addition to reviewing the information provided by Logan High, which included a written report from Goble, and watching several videos of the play, they discussed the call with the two officials who threw their flags on the play.
"We've looked at it," Petty said of the play. "We've talked to the officials. Two officials made the call almost simultaneously. They felt they got it right based on the rules. … There isn't evidence that would cause us to overturn it. It's unfortunate."
The rule the officials were enforcing is the section on fighting (Section 2-11). It defines fighting as any action by a player to move "in a combative manner unrelated to football." And the punishment is the same "whether or not there is contact or not."
Petty said kicking is clearly included in the rule, and they can clearly see a kick in one of the videos. That is exactly what Favero is frustrated that he can't address in an appeal hearing.
"Chase Nelson will never get this back," Favero said. "It was not a premeditated attempt to violate any of the rules of football. We want a decision based on evidence, not on opinion or what's easy or because someone didn't have time."
Goble told the Deseret News that Nelson shouldn't be penalized for an involuntary response to pain.
"He describes being hit from the left side, the injured side, and he felt — he called it a 'zing' in his knee and a lot of pain," Goble said. "He reached for his knee when he was laying there and his teammates picked him up. They were just celebrating the touchdown. As he stepped forward with that left leg he couldn't straighten it. He had to have the leg to step forward, so he forced it and all of sudden it straightened out. That's what they interpreted as a kick."
Goble examined Nelson and said he suffered a knee injury on the play, which was confirmed by Favero Monday afternoon via text. Nelson had an MRI and has an ACL contusion, bone bruise and meniscus contusion and possible tear.
When asked how he knew the injury occurred on that play, Goble said he wasn't.
"I can't be," Goble said. "All I know is its consistent with the confusion he had because he felt the pain when he was hit. … I cannot be sure that injury occurred on that tackle."
Nelson injured that same knee last year and Goble said he doesn't think the teen came up with the story after the fact as the examination confirmed the symptoms Nelson described.
"I don't think he could think fast enough to defraud the public by grabbing his knee," Goble said. "The question is did he reinjure it. … That's a spinal cord response, and that's out of his control."
Favero said he wasn't sure who would start in Nelson's spot. The senior was at the University of Utah Medical Center Monday afternoon undergoing more tests on his knee.
Twitter: adonsports; @phibbs_
Email: [email protected]; [email protected]