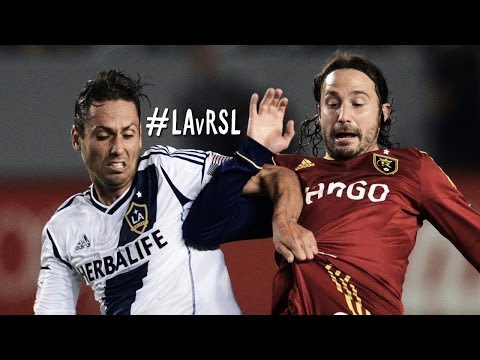 View 2 Items

We hope to dictate more of the play on Thursday. We want to play our style and put our stamp on the game. The chances will come. We'll just have to take advantage of those opportunities.

—Tony Beltran, RSL defender
CARSON, Calif. — Real Salt Lake's attempt to take control of Major League Soccer's Western Conference semifinal came up short Sunday night. RSL's game plan imploded in a 1-0 loss to the Los Angeles Galaxy in front of 27,000 at the StubHub Center.
If RSL wants to reach the conference final, it must defeat the Galaxy at Rio Tinto Stadium this upcoming Thursday night. RSL must win by two goals in regulation to avoid two 15-minute overtime halves, and if necessary, penalty kicks.
"I think we should feel a little fortunate," RSL coach Jason Kreis said. "We have to feel good being only a goal down with 90 minutes to play at our stadium."
Kreis made that assessment after RSL failed to achieve its goal of using mistake-free possession to defuse the Galaxy's speedy counter-attacks.
"I don't think we made them defend enough," Kreis said. "We weren't good enough with the ball. We gave the ball away so cheaply so many times in very dangerous spots."
"Even the goal comes from giving the ball away in our defensive third of the field on an easy pass that just missed."
Galaxy rookie Gyasi Zardes began the scoring sequence by recovering a ball and passing to Robbie Keane on the left wing. Keane dribbled to the left side of the penalty area, then passed toward the midfield.
An onrushing Sean Franklin received the ball and fired a low, 27-yard line drive between goalkeeper Nick Rimando and the right post in the 48th minute.
That goal reflected the Galaxy's ability to exploit Real's sloppiness.
"I thought we gave them a little too much room, and they got behind us a couple of times," defender Tony Beltran said.
"We've got to pay attention more to the chances that were created against us that didn't score," Kreis said. "The number of breakaways and clean chances they were in was way, way too high. We had a lot of numbers behind the ball but there was a lack of committment to get any real pressure on the ball."
Meanwhile, the Galaxy maintained constant pressure throughout the game. Los Angeles retreated with numbers on defense and won nearly all of the aerial challenges to keep RSL from advancing consistently beyond midfield.
"The passes were there; the options were there," Kreis said. "We're just missing simple passes. Some of our most important players need to play better."
Alvaro Saborio, who leads Real with 12 goals this season, managed only two shots before being replaced in the 79th minute. Central defenders Omar Gonzalez and Kofi Opare stymied the Costa Rican international.
Kyle Beckerman gave RSL its best chance to score in the 73rd minute with a 24-yard shot. But goalkeeper Jaime Penedo lunged to his right to deflect the ball away from the post with his right hand.
With the final game of the semifinal series at home, RSL can afford to play its normal pressing style.
"We hope to dictate more of the play on Thursday," Beltran said. "We want to play our style and put our stamp on the game. The chances will come. We'll just have to take advantage of those opportunities."