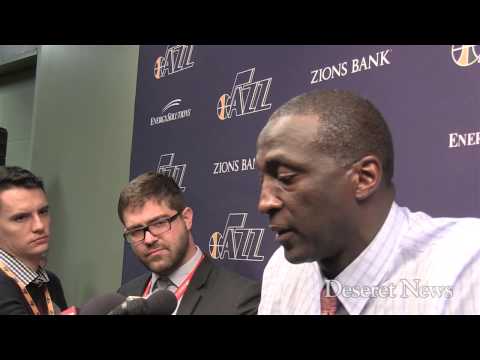 View 46 Items


We're a young group. We should have more energy. We'll go back to work, man. It's frustrating learning lessons over and over and over again, but that's where we are. We'll keep working and hopefully we'll continue to get better.

—Ty Corbin, Utah Jazz head coach
SALT LAKE CITY — A common question was asked throughout Jazzland after Utah opened the 2013-14 season with two heartbreaking losses.
And, no, it wasn't, "Can we get Al Jefferson and Paul Millsap back in the Beehive State?" Or, "Can Karl Malone come out of retirement?"
The simple question: When will the Utah Jazz get their first win of the Rebuilding Era?
Now three games have come and gone, and people are wondering the same thing.
Few had confidence it would come against Houston on Saturday, and it looked like a surprise was in the making when the Jazz jumped ahead of the Rockets by 19 points in the first half.
Everything changed in the second half, however, as the Rockets pulled off a 30-point turnaround to beat the Jazz 104-93 at EnergySolutions Arena.
The defeat dropped Utah to 0-3, marking the first time since the team moved from New Orleans to Salt Lake City in 1979 that the franchise has opened a season with this many consecutive losses.
"It's tough. We're going to get it," Jazz guard John Lucas III said. "These are tough losses. We've played against three good teams, and we were right there. We should be 3-0."
Instead, the Jazz are in danger of matching the inaugural Utah team's 0-4 start. They still have a ways to go before sinking to the depths of the worst start for the organization, which came in the very beginning. In 1974, New Orleans fell 11 straight times before winning.
Utah's second-half performance seemed to take the Jazz back almost 40 years.
The stat sheet showed the Jazz lacked assists (one), rebounds (12) and, most importantly, points (37) in that disastrous final 24 minutes.
Another thing missing after a first half that Jazz coach Tyrone Corbin understated as being "a pretty good half" for his team? "We just didn't have the energy the second half," he said.
The question about that first victory with young players like Gordon Hayward, Derrick Favors, Enes Kanter and Alec Burks leading the way seems even pricklier now.
Some doubt it will come next week when the Jazz visit Brooklyn, Boston, Chicago and Toronto in a tough four-games-in-five-nights Eastern swing.
Maybe in mid-November when the team returns to Utah for a three-game stand?
It depends on when this inexperienced group can learn how to close games. After losing the first two games by three points apiece, the Jazz were tied with the Rockets at 85-85 with less than six minutes to go. That, despite a miserable third quarter in which Utah only scored 17 points.
Jeremy Lin, one of three Rockets to score 20 or more points, hit a 3-pointer to put the visitors up 88-85.
The last 5 1/2 minutes weren't pretty for the Jazz.
"We're a young group. We should have more energy," Corbin said. "We'll go back to work, man. It's frustrating learning lessons over and over and over again, but that's where we are. We'll keep working and hopefully we'll continue to get better."
Veteran forward Richard Jefferson led six Jazz players in double figures with 18 points. Kanter had 16; Hayward and Burks each contributed 15 points; and new reserve Lucas had 11 after being replaced in the starting lineup by Jamaal Tinsley.
But for the game, the Jazz shot only 42.0 percent and just 18.2 percent from 3-point range.
The Rockets, meanwhile, shot 50.7 percent from the field. Chandler Parsons led them to a 3-0 start with 24 points, 12 rebounds and six assists.
James Harden had 23 points; Lin finished with 20; and the Jazz failed to take advantage of a relatively quiet 15-point, nine-rebound effort from Dwight Howard.
The second half for the Jazz was reminiscent of the 125-80 shellacking the Rockets gave them in January, which was the worst home loss in Utah history. This time, Houston made the third-biggest second-half comeback against a Jazz team, overcoming the 56-40 halftime deficit.
NOTES: Utah had 11 assists in the first half but only finished with 12. ... Tinsley finished with zero points on 0-for-2 shooting and two assists in his first start back with the Jazz. ... Utah only had 15 turnovers after averaging 21 the first two losses.