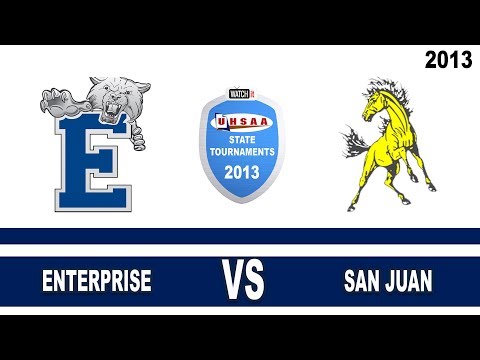 View 14 Items


We've been second lots and lots of times. There was just a different feel this year. … There was a relaxation. They're calm, collected; they just do their jobs. That's the biggest thing is the kids accepted their roles.

—Brian Phelps, Enterprise head volleyball coach
OREM — The Enterprise Wolves are finally first.
The smallest school in 2A is second to none when it comes to volleyball as the Wolves rolled through the state tournament this weekend without losing a single set to earn the school's first volleyball title in 23 years.
"We've been second lots and lots of times," said Enterprise head coach Brian Phelps with a smile after the top-ranked Wolves defeated second-ranked San Juan, 25-22, 25-12, 25-19, Saturday night at UVU's UCCU Center. "There was just a different feel this year. … There was a relaxation. They're calm, collected; they just do their jobs. That's the biggest thing is the kids accepted their roles."
The team was deep and talented, but also boasted two of the best hitters in any classification in junior Riley Lyman and senior Dakota Robinson. Phelps told Lyman and Robinson he would look to them to carry the bulk of the weight this year, which meant other players would have to be satisfied with much smaller roles.
"We had one game where Riley had 84 hit attempts," Phelps said. "We had a lot of expectation from those two. They're so strong hitting."
He said the duo made a commitment to work harder because so much was expected of them. They were both impressive Saturday night as Lyman earned 21 kills to go with her eight blocks, while Robinson added 17 kills and two blocks. Lyman also had 12 digs defensively. Junior setter Kaylee Christensen earned 12 assists, while freshman setter Tori Phelps added nine assists.
"They had to be conditioned really well this year," Phelps said of Robinson and Phelps. "They're getting set after set after set after set. And they're both important passers too. I was appreciative of how hard they worked to get in shape so they could handle the load. And mentally, they just didn't want to lose. They were not going to lose."
Equally impressive to Phelps was the commitment of the rest of the players on the roster to, not only take on smaller roles, but to excel in them.
"When you get kids to accept roles and do the little things, then it makes all the difference," he said. "You try to teach it, but it doesn't always happen. The years that we've won (basketball), those are the years that little roles have been filled and they feel important in those roles."
That attitude is also what helped San Juan succeed after losing all but two starters to graduation and other activities.
"These girls were told by several of their peers that they would be no good," said San Juan Cassy Moon, her voice choked with emotion. "This is just so rewarding. They made goals the Monday after we came back from state and that fifth-place finish. … We met every goal except this one."
Because of the new personnel, players had to take on new positions and different assignments.
"If I'm going to lose a game, I'll take this one over the others by far," Moon said. "They've just been great kids. They figured out how to come together as a team. And they accepted their roles and respected each other's roles. That was huge."
The Broncos were led by junior outside hitter Tatiana Su'esu'e, who finished with 15 kills. Sophomore outside hitter Sara Morley added 12 kills, and setter Jessie Ivins earned 29 assists in the loss. As a team San Juan had 51 digs.
For the Enterprise players, who suffered the heartbreak of last year's second-place finish, winning this year was especially gratifying. And for some, it was even more special because they played on the Wolves' softball team that finished second to San Juan last spring.
"I think this year we just knew what we were capable of, and we performed the best we knew we could," said Lyman. "And we just played really good. … We were all just in it together to win. And it feels great."
Twitter: adonsports
Email: adonaldson@deseretnews.com