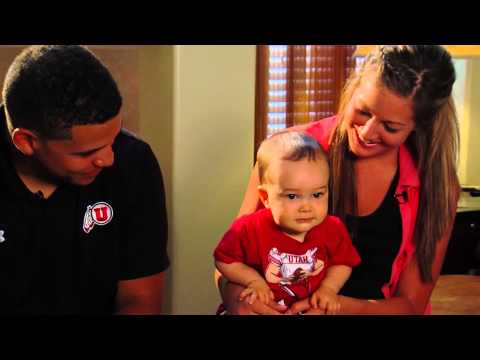 View 2 Items

I'm a downhill runner. ... It's definitely got me to where I'm at, especially with my size. Blocking, pass protection and downhill running is what I do.

—Karl Williams
SALT LAKE CITY — The truth about Karl Williams is that he is one of the most valuable players on the Utah football team, even if he might be one of the least noticeable.
Whether it's carrying the ball from the fullback position, catching passes out of the backfield, protecting the quarterback with vicious blocks, or playing on nearly all of the Utes' special teams, Williams does it all.
He wears No. 38, but you might barely even notice the former Utah prep standout out on the field during Ute games.
"He's not overly big. He's not overly fast. He's not overly anything,'' says Utah co-offensive coordinator Dennis Erickson. "He's just a football player,''
His teammates all call him "Truth,'' after Carl "The Truth" Williams, the heavyweight boxer from the 1980s and '90s who once fought Mike Tyson for the title.
Williams said he first picked up the nickname in high school when KSL TV did a feature on him. "Now everybody here calls me 'Truth,'" he says with a smile.
He starred at Layton High School in football and baseball. Although he was all-state in both sports, he wasn't highly recruited and headed down to Southern Utah, where he played as a true freshman in 2009.
Williams might have stayed in Cedar City, except for a T-Bird road trip to San Diego State that season, which changed Williams' view about his football future.
"We went to San Diego State and I got a really good taste of the stadium and the atmosphere and told my dad I wanted to play in a place where there were a lot of fans and people cared about football,'' Williams said.
Although he liked his teammates and coaches, Williams didn't get a feeling of big-time football at SUU and decided to look for a big-time school.
An ex-Ute player who Williams knew approached Ute coach Kyle Whittingham, who is always looking for local walk-ons.
"I did not know about him personally," said Whittingham, "but a former player of ours that was friends with Karl approached us about him playing for us and said, 'Hey, this kid is the real deal. You ought to bring him on.'''
After a redshirt season in 2010, Williams played mostly on special teams in 2011, then saw more action in the backfield last year, catching nine passes for 83 yards and a touchdown and rushing seven times for 37 yards.
In Utah's season opener against Utah State this year, Williams rushed the ball 12 times for 45 yards and a touchdown and also recovered an onside kick that was key to the victory. However, he was injured in the Weber State game and missed the Oregon State game. He came back to score a big touchdown in Utah's win over BYU and made the first of three straight starts in the Utes' win over Stanford when Utah went to a two-back set.
Williams picked up another touchdown against Stanford and caught five passes. Just as important, however, was his blocking in the Utes' 410-yard offensive day.
He's been vying for minutes in the backfield with Bubba Poole, Kelvin York and Lucky Radley, but he knows he's a different player than his fellow running backs.
"I'm not the same as Bubba or Lucky,'' Williams says. "I'm a downhill runner. I'm not going to dance around with it. I go north and south a lot. I don't bounce outside a lot. It's definitely got me to where I'm at, especially with my size. Blocking, pass protection and downhill running is what I do.''
Whittingham is glad to have Williams, especially since the Utes had to change their offense when their top two tight ends went out with injuries.
"He's a great leader for us with a tremendous work ethic,'' said Whittingham "He does everything right. He's a guy that has gotten better from the day he got in the program. He just continues to get better and is a big part of our offense right now. He's excellent on special teams and has a big role.''
Williams plays on every one of the special teams except PATs and enjoys it.
"I'm a leader on the special teams. I can't ask for anything else,'' he said. "That's something I take pride in.''
As he winds down his senior season, Williams isn't counting on a pro career, but his coaches say he has a chance because of his work ethic and the fact that there aren't that many fullbacks coming from the collegiate ranks these days.
"The NFL is looking for them. They can't find them in college,'' says Erickson. "Karl has toughness, a love for the game and is a fierce competitor — all of the things that football players are all about. He's just an all-around tough football player.''
And that's the truth.