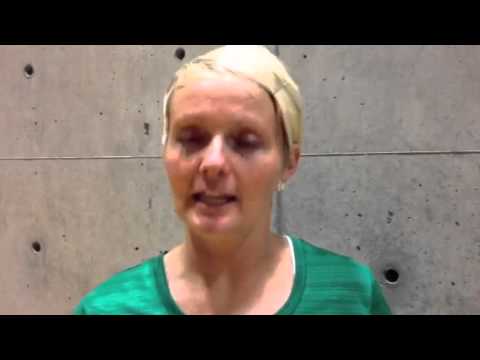 View 2 Items


I have never in my life coached a team that will come together and love each other like these girls. I can coach the crap out of them, but I can't make them love each other and that's what those girls do. It's a privilege to be their coach. …They were amazing.

—Brittani Mitchell, South Summit coach
OREM — Brittani Mitchell considers herself a fun coach.
That doesn't mean, however, that the South Summit volleyball coach can't bring the hammer down when she needs to. And in Friday night's quarterfinal battle with fifth-ranked Emery, she had to serve up some tough love as her team struggled to stay alive in the 2A quarterfinals at UVU's UCCU Center.
The Wildcats had worked too hard to let their playoff dreams slip away.
"I like to take the fun approach, but sometimes I have to get up in their face," Mitchell said after the Wildcats battled back from a two-set deficit and fought off match points to earn a berth in Saturday's semifinal against Enterprise with a 25-20, 20-25, 21-25, 25-13, 17-15 win over Emery. "You want to know what I said to them?" And then she put her hand on a reporter's shoulder and yelled, "Right now, Emery wants it more than you do! Do you want it? Tell me you want it?"
Then she stood upright, glanced at her players, and looking utterly exhausted, added: "They wanted it, and they went out and they showed everybody here that they wanted it. And they do."
The Wildcats won their region title without a loss, but because they faced schools from bigger classifications in preseason tournaments, their overall record was barely .500.
Mitchell said that schedule prepared them for Friday's battle for a semifinal berth.
"We had some good, hard matches, but that only makes you better," Mitchell said fighting emotion as she worked her way through hugs and celebratory high-fives from family, friends and fans. "This is how you win state championships. You don't float through. Everybody comes to play, so you have to push through."
The team was led by senior setter Alisha Lewis, who did a masterful job, especially in the final two sets, of distributing the ball. She said when Mitchell suggested Emery wanted to play in the semifinals more than they did, she had only one thought.
"We knew Emery didn't want it more than us, and we wanted to show them that," Lewis said.
The Wildcats came out and scored seven straight points to start the fourth set. The fifth set was as close a battle as it can get, and it looked like Emery might pull away when they led 11-7 and then 13-8. That's when Mitchell called a timeout.
This time it was to remind them why they made the trip from Kamas to Orem this weekend.
"We're ready," she said of playing in Saturday's semifinal. "That's what we came for. We didn't come just to play volleyball. We came to win. And that's what we want."
The coach said her team's chemistry is the reason they were able to battle back from what looked like certain defeat.
"I have never in my life coached a team that will come together and love each other like these girls," Mitchell said, her voice wavering with emotion. "I can coach the crap out of them, but I can't make them love each other and that's what those girls do. It's a privilege to be their coach. ... They were amazing."
Senior libero Lexi Hatch said the team was nervous, but felt an underlying trust in each other as they fought for each point against a very talented, very tenacious Spartan squad.
Junior outside hitter Natalie Nicols had some gutsy hits in the final set, as did Emery's junior middle hitter Baily Rasmussen and junior Emily Olsen.
"It was a big battle," said Hatch, who had a match-saving dig in that fifth set. "We believed in each other. We knew we could do it. We fought harder because we love the game. We have lots more to give. We love playing."
The Wildcats will be tested Saturday as they take on top-ranked Enterprise in Saturday's 10:30 a.m. semifinal. Second-ranked San Juan defeated Beaver, 25-22, 25-20, 21-25, 25-20, to advance to the 12:30 2A semifinal. The Broncos will take on third-ranked Delta after beating South Sevier.
The 2A championship match is scheduled for 8 p.m. Saturday night.
Twitter: adonsports
Email: adonaldson@deseretnews.com