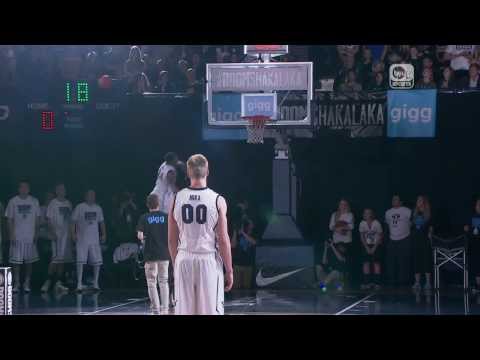 View 3 Items


Our team's still trying to find themselves. We're trying to find the best group that plays the most consistent.

—BYU junior guard Tyler Haws
PROVO — There's less than a week to go before BYU opens the regular season against Weber State.
The Cougars and Wildcats square off next Friday at the Marriott Center. But first, BYU has one final tune-up Saturday (7 p.m. MDT, BYUtv) against Alaska Anchorage in an exhibition contest.
"Our team's still trying to find themselves. We're trying to find the best group that plays the most consistent," said junior guard Tyler Haws. "But we want to win. We want to get off to a good start and start winning games. It's fun to get out there and play against someone else. We're beating each other up in practice. It's fun to play against someone else."
"The main thing is, we want to play well," said coach Dave Rose. "You want to see some of the habits you've tried to instill in your players during practice. This team has really progressed the last four weeks."
Rose said he will likely start a four-guard lineup like he did last weekend in an exhibition 94-59 win over Colorado College.
"We've started two post guys for a long time," Rose said. "We like the combination of guys we have. We'll mix it up, but I think we'll start the four smaller guys. … I'm pretty confident in 10 guys that we have. How many minutes and how that all works out, that will be interesting. Early in the year, matchups will really determine some of our personnel lineups until we get comfortable with what we're doing."
ABOUT THE SEAWOLVES: Alaska Anchorage is a Division II team that features a trio of returned LDS missionaries — Jacob Craft (a Jordan High product), Brad Mears (out of Bingham High) and Teancum Stafford (who used to play at Snow College).
"They've got a bunch of shooters. They have a few returned missionaries," Haws said of Alaska Anchorage. "They're going to be ready to play. It will be a fun place for them to play, coming to the Marriott Center. We've got to get out on shooters and control the pace of the game and play the way we play."
Rose goes way back with Alaska Anchorage coach Rusty Osborne.
"Rusty's a great coach and a wonderful program," Rose said. "You look at the history of him when he was the assistant coach there and then he got the head (coaching) job. He does a great job of getting guys in there that can play his system. The system's really tough to defend. They're a 3-point shooting team and they put a lot of pressure on you. We're going to see a lot of different looks from them."
NOTHING BUT THE TOOTH: BYU center Nate Austin had a part of his front tooth knocked out by freshman Luke Worthington in the early moments of the Cougar Tipoff on Oct. 23.
Austin's tooth was found on the floor and put back in place the following day.