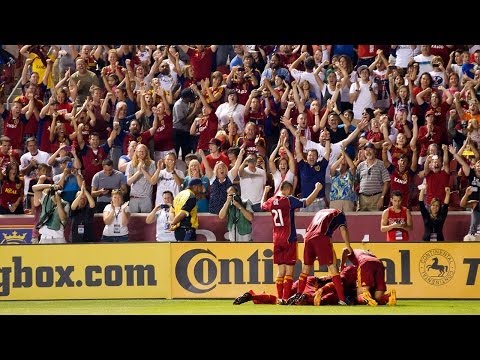 View 2 Items

It's allowed a little more time to focus on our opponent and think about what they're doing, but also get to stuff we don't normally get to like dead balls and stuff like that.

—RSL coach Jason Kreis, on the wait between the end of the regular season and Sunday's playoff opener
SANDY — By the time Real Salt Lake takes the field on Sunday for Game 1 of its Western Conference semifinal series against Los Angeles, 11 days will have passed since its season-ending victory over Chivas USA.
Coach Jason Kreis has known his opponent for all five training sessions during that stretch, and he's certainly put the time to good use.
"It's allowed a little more time to focus on our opponent and think about what they're doing, but also get to stuff we don't normally get to like dead balls and stuff like that," said Kreis.
RSL has been susceptible to conceding dead ball goals this year, which includes Omar Gonzalez heading in a corner kick back in August during the Galaxy's 4-2 win at the StubHub Center.
The extra time working on positioning and studying player movements could be a benefit to Real Salt Lake, which Ned Grabavoy said has been particularly nice because Game 1 is a road game.
"It helps too to have a little more preparation than usual, some more time to focus on just one opponent. With a road game to start the series, I think we've been able to spend more time on the task at hand," said Grabavoy.
MULTI-GOAL TRIUMPHS: Coming off a season in which the average margin of victory or loss in Real Salt Lake games this year was 0.47, interestingly every game this year with the L.A. Galaxy was decided by two goals — the only Western Conference opponent that was the case for.
Real Salt Lake's only victory over the Galaxy this year was a 3-1 triumph, while its two losses were 4-2 and 2-0.
Considering the attacking quality on both sides of the ball, both teams figure to have some scoring opportunities this Sunday, which could easily result on another multi-goal win.
Then again, Real Salt Lake is playing its best defense since very early in the season with just two goals allowed in its past four league games.
"We oftentimes get our success because we defend so well, it's not just about what we do with the ball, it has to be what we do without the ball, it has to be what we do without the ball and what that can mean when we do have the ball," said Kreis.
DIFFICULT AWAY RESULT: Los Angeles has only lost two games at home all season, and Grabavoy said Real Salt Lake needs to be very mindful of that fact throughout the game on Sunday.
"I think as the game matures and grows longer and gets into the later stages of the game, that's when a mature team decides what's there for the taking and not to get greedy if we're in a good position to get out of there with a result," he said.
PLATA AVAILABLE: Despite being limited in practice much of the week because of the hamstring injury picked up in last week's win over Chivas USA, forward Joao Plata will be available for Sunday's Game 1, according to Kreis.