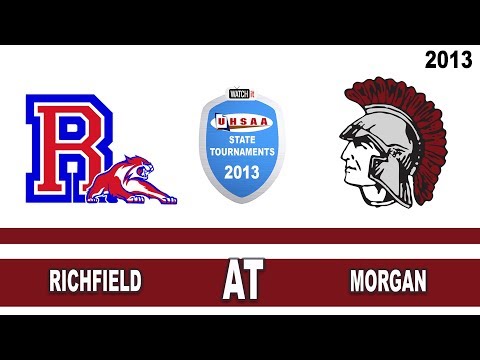 View 12 Items

We had the right play called at the right time. We took advantage of them flying in on our motion man.

—Morgan's Kade Carrigan
Richfield High School head football coach Corey Morrison may want to consider moonlighting as a fortune-teller.
Going into Friday afternoon's state 3A quarterfinal matchup with Morgan, Morrison's team was a decided underdog. Parry's Power Ratings had Morgan winning by 15. Yet Morrison was confident in his team's chances. "I believe we're capable of beating anyone — and that includes a tough team like Morgan if we just protect the football and play like we know we can," Morrison was quoted in the Deseret News as saying.
He added, "Anytime we turn the ball over, we usually lose. Whenever we hang on to the ball, we usually win, and it's really been about that simple for us this year."
Morrison's words were certainly prophetic as Morgan used three second-half turnovers by Richfield to blow open a close game and finish with a 32-13 victory.
Early on, it looked like the game was going pretty much according to plan: Morgan's power rushing game vs. Richfield's aerial attack. The Trojans took the game's opening drive 70 yards on nine plays, all rushes, to an early 6-0 lead midway through the first period. Morgan scored on a 13-yard touchdown gallop by Matt Murdock.
The two teams then traded drives that ended on downs. Morgan's failed fourth-down conversion gave the Wildcats the ball at the Richfield 42. On an eight-play drive, which featured six passing plays for 44 yards, the Wildcats found the end zone on a four-yard touchdown pass from Brandon Willardson to Jarom Stewart. The PAT was no good, leaving the score knotted at 6-6.
Then the fireworks started.
An excellent kickoff return by Morgan's Kade Carrigan on a reverse gave the Trojans great field position at the Richfield 48. The six-play drive culminated in quarterback Ben Saunders' first completion of the game, a 30-yard touchdown strike to a wide-open Carrigan.
"We had the right play called at the right time," Carrigan said after the game. "We took advantage of them flying in on our motion man."
Faced with a 12-6 deficit at only 1:53 left in the first half, the Wildcats took over at their own 20. On their first play, Shay Morrison caught a 37-yard pass from Willardson to set up a possible score late in the half. Five plays later, Willardson hit Brenan Thomas for a 13-yard touchdown. The PAT was good, giving Richfield a 13-12 lead with just 44 seconds left in the half.
Inexplicably, the Wildcats kicked a short kickoff to one of Morgan's up-men, who had a good return, and the Trojans were in business at their own 46. With time winding down, Saunders threw what looked like a wheel route to Jake Peterson, who stopped, returned the favor back to Saunders, who then launched a long pass downfield to Mitch Wamsley for a stunning touchdown to give Morgan back the lead. A failed two-point conversion left the score at 18-13 in favor of the Trojans at the half.
Late in the first half, Morgan's second leading rusher Murdock was tackled from behind on what appeared to be a horse-collar tackle. He twisted awkwardly and left the field in obvious pain. He was later diagnosed with possible torn ligaments in his hip and was taken to the hospital following the game for evaluation.
Faced with the loss of one of the team's leaders, the players gathered at halftime. "We kind of dedicated the second half to him," said Carrigan. "We play as a family and for each other."
It certainly appeared as though the Trojans turned up the pressure, as Morgan turned an interception (by Carrigan) on Richfield's first possession into a touchdown, and the Wildcats just couldn't get back into rhythm for the remainder of the game. Christian Elton and Cole Wilkinson both had interceptions in the second half, and Carrigan added a late TD for the final tally, proving coach Morrison's earlier statement correct.
Comment on this story
Morgan coach Kovi Christiansen was pleased with the second-half effort. "We moved a couple of juniors into the fullback slot, and (Ben) Holland had a great second half" in place of the injured Murdock. Christiansen added, "The kids just wanted to move on."
All told, Morgan finished with 254 yards rushing on 48 carries, led by Carrigan's 125 yards. Holland added 69 yards on 15 carries. Richfield had just 122 yards rushing to go with 181 yards passing and the three turnovers. The Trojans had 116 yards through the air.
With the victory, Morgan moves on to the semifinals next Saturday at Southern Utah University. It will play Manti, which defeated Emery, at 4 p.m.
Chris VanCampen is a graduate of the University of Utah and Santa Clara Law School and practices law in Heber, is a father of four, an avid fly-fisherman, and announcer of many Morgan High School sports events. Email him at: cvcinutah@gmail.com.