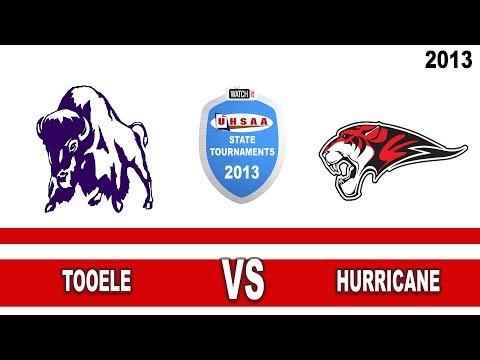 View 2 Items


I knew that would happen. We've just got to play whoever we have to play, and we'll do what we've got to do.

—Hurricane senior Malary Reid
OREM — Malary Reid is not surprised that three of the four teams in the 3A volleyball semifinals are from Southern Utah.
"I knew that would happen," said the Hurricane senior after the fourth-ranked Tigers swept third-ranked Tooele, 25-13, 25-14, 25-11, on Friday. "We've just got to play whoever we have to play, and we'll do what we've got to do."
That may seem overly simple, but it's the approach the Tigers took en route to claiming a semifinal spot for the first time in three seasons.
"The last two years we've made some stupid mistakes against teams that, a week earlier, we'd blown out," said Hurricane head coach Daniel McKeehan. "It's nice to get that monkey off our back. Now I have seniors on the floor. Last year I had three seniors, two on the court, and the year before, none. And it showed."
The Tigers received outstanding leadership in their first two games against Tooele, starting with Reid. The middle hitter finished with eight kills and no errors against the Buffaloes.
"She's been dominant in the tournament," McKeehan said. "In Game 2 and 3 we went away from her because (Tooele) was committing to her. Then their middle could get to the outside, and that just opened things up for us. But Malary was just superb for us."
Reid said the team's approach to the playoffs has been to focus on mental strength, rather than strategy or technique.
"We're just trying to be mentally strong so we can be physically strong," she said. "I feel like we did come out thinking, 'We need to play our hardest and do what we need to do to win.' I think we were more confident, more mentally strong and focused on what we want to do."
Like Reid, McKeehan isn't surprised that Hurricane will face region rival Snow Canyon in the 3A semifinals at 12:30 p.m. Saturday, while the Tigers' region champion, Desert Hills, takes on second-ranked Morgan in the other semifinal at 10:30 a.m.
"I think Southern Utah volleyball — between our three schools — we compete anywhere in the state, 1A through 5A," McKeehan said. "We just get really prepared in our region. Our region is so strong that we feel like any four of our teams are in the top five."
That proved to be true as three of the four semifinal teams are from Region 9. The three coaches actually work with each others' players in club programs during the summer.
"All three of our programs run consistent ideas," McKeehan said. "We train the same way. … It's beneficial for the kids to get out and play with other kids who are as competitive."
The Buffaloes had some impressive moments Friday, but the Region 11 champions couldn't build any real momentum against the Tigers. Seniors Sela Filo and Shania Hurst led the Tiger offense with 10 and nine kills, respectively. Setter Addie Edwards finished with 28 assists and five aces.
"She served them right off the court," McKeehan said. "We kept them out of system."
In Tooele's first-round win against Juab, junior outside Brin Stewart led the way with six kills, while senior libero Madison Gibson picked up 15 digs.
Meanwhile, heading into the semifinals McKeehan said he's optimistic, believing the Tigers have yet to show what they're really capable of doing.
"It's nice getting in here and loosening up," he said. "I don't think we've played our best ball yet."
In the other 3A quarterfinals, Desert Hills swept Payson, 25-14, 25-12, 25-12, while Morgan swept Stansbury, 25-9, 25-16, 25-11. Snow Canyon was the only semifinalist to be pushed to four games as North Sanpete provided the tournament's most exciting contest. The Warriors won the match, 25-18, 23-25, 29-27, 25-22.
The 3A championship match is scheduled for 5:30 p.m. Saturday at UVU's UCCU Center.
Hurricane players discuss their quarterfinal win.
Malary Reid and Addie Edwards discuss fourth-ranked Hurricane's quarterfinal sweep of third-ranked Tooele.
Twitter: adonsports
Email: adonaldson@deseretnews.com