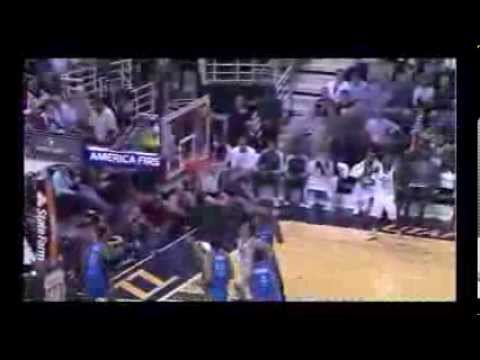 View 82 Items

We (were) right there. We all felt like we could have won, so that's great for our confidence.

—Jazz shooting guard Alec Burks
SALT LAKE CITY — In what will likely be the first of many setbacks this season, the Utah Jazz fizzled in the final seconds against a Western Conference powerhouse in their season opener Wednesday night.
The Oklahoma City Thunder's 101-98 victory, which wasn't a certainty until Gordon Hayward's long 3-pointer bounced off the rim with 0.9 seconds to go, put the first mark in the loss column.
But it sure felt like Moral Victory No. 1.
"We (were) right there," Jazz shooting guard Alec Burks said. "We all felt like we could have won, so that's great for our confidence."
Ultimately, the team with Kevin Durant on it won, which didn't shock anybody.
The athletic superstar scored 42 points, hitting 22 of 24 free throws, including a clutch pair with 6.8 seconds remaining.
The way the Jazz challenged a Thunder team that has well-earned championship-contender status might have come as a surprise.
Burks came off the bench, showing the scoring potential he's been aching to display the past two seasons with a team-high 24 points to go with six rebounds and six assists.
It was a combination of sweet and sour, though. Burks made acrobatic plays and hit shots to keep the Jazz in it, including a three-point play that came early in the fourth when Utah made its biggest surge.
But he also missed a floater with a minute left and turned the ball over on the next possession.
"We fought hard," Burks said. "We had to fight from behind, but we still gave ourselves a chance to win. If we made some shots, we would've won. That's the game."
New Jazz leaders Derrick Favors (15 points, nine rebounds) and Hayward (12 points, five assists, four rebounds, three steals) also bounced back and forth from making big plays to botching opportunities.
Favors (six turnovers) had an offensive foul and missed two free throws, but he also played terrific defense and cut the lead to three at one point in the final minute. Hayward (4-for-13 shooting) missed that game-tying attempt, but the only returning starter's steal with 12.9 seconds led to a pair of Burks free throws that made it a one-point Thunder lead with 11.1 to go.
It's all part of the rebuilding process.
In their first game of the post-Al Jefferson and Paul Millsap era, the rebuilding Jazz had a total of six players in double figures. They even outshot Oklahoma City 45.6 percent to 40.7 and outscored the Thunder 50-44 in the riveting second half.
"We try to put that effort," said Jazz center Enes Kanter, who had 14 points and 10 rebounds.
It wasn't perfect or pretty, which was evident by 22 turnovers and 10 missed free throws (20 for 30).
But in a game that could be reflective of the season — glimpses of exciting greatness mixed with stretches of frustratingly mistake-prone hoops — the "fight" that Kanter also talked about showed.
"They're learning. We've got some guys in some new spots for themselves in big moments with the ball in their hands," Corbin said. "They have to learn their way through it. This is who we have, so this is what we have to build with. I thought the effort and the focus was very good."
Utah nearly scraped out of a 15-point second-half hole in the fourth quarter, when a guy most Jazz fans had never heard of — preseason survivor Mike Harris — played a pivotal role and scored 13 points in a comeback attempt along with Burks, Hayward and debuting rookie Rudy Gobert.
Who are these guys?
Jazz fans watching got to know them quickly. They're the guys who gave a talented Thunder team, a top-shelf squad even without injured star point guard Russell Westbrook, just about all it could handle to begin this interesting season.
"There were a lot of positives, a lot to build off of tonight," Jazz coach Tyrone Corbin said. "I thought the guys' effort for the most part was pretty good. I thought our defense in the second half was really, really good."
Moral victory good.
Even with those missed freebies, a squandered home-win opportunity and a ton of turnovers.
"I know it's an excuse but those are first game. We just have to get better at it," Kanter said of the turnovers. "We can work on those, but the fight we put up out there tonight, that shows that we care."
Judging the enthusiastic reaction of the opening-night sellout crowd of 19,911, that was appreciated. Even if it was the first defeat in what could be a season full of lessons in losses.
EMAIL: [email protected]
TWITTER: DJJazzyJody