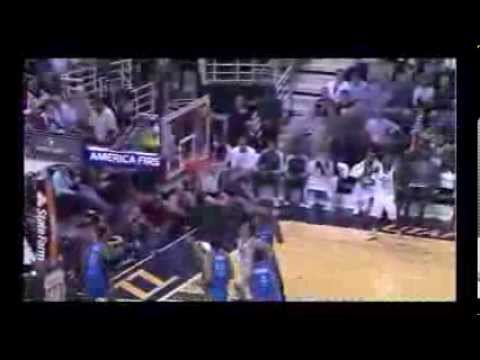 View 42 Items

We only have 10 guys in uniform tonight, so how much experimenting do you think we can have?

—Tyrone Corbin
SALT LAKE CITY — Just before the Utah Jazz's opener Wednesday, Tyrone Corbin was asked if he'll continue to experiment with lineup combinations into the regular season.
That, the Jazz coach lamented, isn't exactly easy right now considering Utah begins the 2013-14 campaign with Trey Burke (finger), Marvin Williams (Achilles), Brandon Rush (knee), Jeremy Evans (rotator cuff) and Andris Biedrins (ankle) sidelined with injuries.
"We have five guys out," Corbin said. "We only have 10 guys in uniform tonight, so how much experimenting do you think we can have?"
To the Jazz coach's credit, he tried some pregame experimenting.
Among the media throng in Corbin's interview two hours before tipoff was former NBA player Grant Long.
After acknowledging his former contemporary, who's now an Oklahoma broadcaster, Corbin joked with Long: "Can you get a couple of rebounds?"
And in a Jazz uniform, perhaps?
While that won't happen, several of the Jazz's walking wounded are making progress.
Though Burke will sit out what could've been his NBA debut, the Jazz's prize acquisition this offseason is on the mend from the surgery performed two weeks ago to repair his fractured right index finger.
The former Michigan star had his splint off as he left EnergySolutions Arena after the Jazz's shootaround. He even signed paraphernalia for community and charity giveaways this week.
"I'm getting better," Burke said.
Williams and Rush are both working their way back from their surgeries. Both continue to be tested often and have increased what they're able to do in practices.
"They're making strides," Corbin said. "I hate to give a date, a time frame (for return)."
Corbin smiled when a Thunder media member asked if they'd be back when Utah visits Oklahoma City on Nov. 24.
"I hope," he said. "I hope it's before then, but we'll see."
Evans looked like a lopsided football player with all of the ice and padding under his jacket on his right shoulder after shootaround. The forward is limited in what he's allowed to do for now, too.
"It just feels a lot better than it did," Evans said. "I feel like I can play now."
He's just waiting for the green light from the training staff, which he hasn't received.
Evans admitted he's frustrated by sitting out, especially in light of his potential new role and Biedrins going down.
"We still need some big guys," Evans said. "I want to help the team out as much as I can and it's an opportunity to play."
As for Biedrins, he's feeling snake-bitten after hurting himself near the end of Monday's practice.
"It sucks. Couldn't be worse timing than this," he said. "I just came down on Turk's feet, just rolled ankle."
Again.
Biedrins said he's twisted his left ankle "a lot of times." Having it happen two days before a fresh start with a new team made it all the worse.
"I was good. I had a great month," the 27-year-old said. "I was excited to play, good shape. It's just frustrating, two days before the season-opener."
NOTES: The Jazz and shooting guard Gordon Hayward must come to an agreement on a contract extension by 9:59 p.m. MDT tonight or the shooting guard will become a restricted free agent next offseason. … Jazz center Rudy Gobert arrived to the arena sporting a pink Minnie Mouse backpack he received as part of a humorous rookie hazing ritual before his first NBA game. … Corbin said Jamaal Tinsley and Alec Burks could start at point guard during Burke's absence, but he opted to go with John Lucas III to begin the season. Tinsley has only participated in three practices since re-signing with the Jazz on Saturday. "He's in shape," Corbin said, "but getting back into game shape will take him a little while."
EMAIL: jody@desnews.com
TWITTER: DJJazzyJody