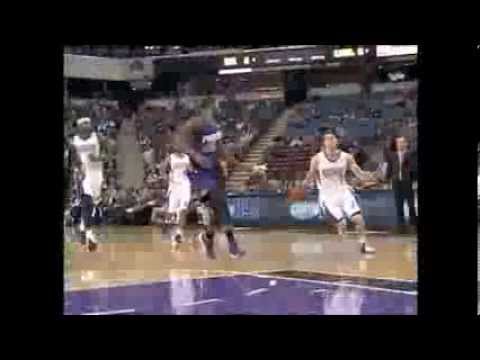 View 5 Items

SALT LAKE CITY — As the 2013-14 NBA season tips off, the Utah Jazz have a serious question to answer:
To Jimmer, or not to Jimmer?
Should the Jazz try to trade for BYU alum Jimmer Fredette, who's with the Sacramento Kings? Do the pros of bringing Fredette to play with the young Jazz outweigh the cons?
One of the main reasons to pick up Fredette is purely financial.
No, Jimmermania isn't as big now as it was when he was a senior at BYU. However, there are plenty of fans from nearby Provo who would travel to EnergySolutions Arena to watch Fredette play. Granted, Fredette probably won't draw record-breaking numbers unless the Jazz somehow make a playoff run, but he will help attract more people to watch the games than might otherwise happen in a down year.
After all, expectations aren't high for the Jazz going into the start of the season. ESPN's Marc Stein has Utah No. 27 in his preseason power rankings and CBSSports.com's Matt Moore has the Jazz at No. 24. Few expect the young Jazz to compete for a playoff spot this season as they develop their young talent and prepare for the future.
So, why not take a chance on Fredette?
Of course, Fredette's value isn't limited to his sizable local fan base. His ability to score a lot of points from deep is a valuable asset as well.
During the preseason, Fredette had a big game for Sacramento against the Suns on Oct. 17, with 23 points on 9-of-15 shooting and 5-of-7 from behind the arc. He added five assists and four rebounds in 32 minutes.
Last season, he shot more than 41 percent on 3-pointers. Also, Jimmer averaged 7.2 points per game last season in just 14.0 minutes per game. Given just a bit more playing time, Jimmer could average more than 10 points per game.
Who couldn't use that?
While Fredette is unlikely to be a starter, the Jazz could use a shooter who can come off the bench and make a few 3s at critical times. Also, while Fredette isn't a true NBA-quality point guard, he can help out at that position while Trey Burke recovers from his broken finger injury.
Given all of this, there's plenty of reasons the Jazz should try to trade for Fredette. However, obtaining Fredette isn't a slam dunk by any means. He has his liabilities as well.
The biggest one being his defensive skills, or more accurately the lack thereof.
While Fredette has improved somewhat since joining the NBA, he isn't the best defender. You can't expect him to go toe-to-toe with great guards and hold his own. This is something that the Jazz can't simply look past as opposing offenses will attack Fredette the same way that they target him now at Sacramento.
The other big question is how much it would it cost to bring Fredette to Salt Lake City.
It doesn't seem like the Kings plan on using Fredette extensively this season as they have an overabundance of guards on their team, including Ben McLemore, Greivis Vasquez and Marcus Thornton.
That said, Sacramento isn't desperately trying to get rid of him either. The Jazz won't want to give up a first-round draft pick for Fredette as they seem to be focusing on picking up high-level young talent to rebuild their team. Would a second-round pick be enough to entice Sacramento to make a deal?
Maybe, but maybe not.
Sacramento still has until the rapidly approaching Oct. 31 deadline to decide whether to extend Fredette's contract under his year-four option valued at $3.3 million, according to the Sacramento Bee. That doesn't mean that the Kings can't still move Fredette after that, but it costs a team like Utah more to pick up Fredette than it would if he became an unrestricted free agent. Sacramento may extend Fredette's contract in hopes that he'll bring a more valuable player or draft pick in return.
So, the Jazz will be more likely to make a deal for Fredette if the Kings don't extend his contract.
All things considered, the Jazz should take a serious look at trading for Fredette. Despite his flaws, he will be an asset from the bench as well as a good economic investment for Utah if the price is right.
In other words, the pros would outweigh the cons.
Lafe Peavler is a sportswriter intern at the Deseret News.