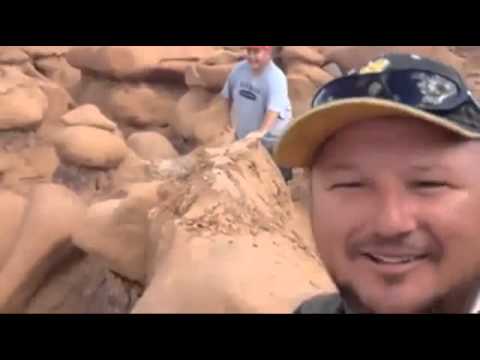 View 4 Items
Dave Hall

CASTLE DALE — The Emery County Attorney's Office confirmed Tuesday that it is investigating the "unique" case of two Utah Boy Scout leaders who pushed over a rock formation in Goblin Valley State Park.
Emery County Attorney David Blackwell and deputy county attorney Brent Langston recently joined state park officials to review the site where Highland residents Dave Hall and Glenn Taylor pushed over a "goblin" formation, also known as a "hoodoo." The men later posted a video of the incident online, which went viral and got worldwide attention.
In the video, Hall narrates and films while Taylor is seen pushing a large boulder from its delicate perch, sending it tumbling down a small embankment. A third man, identified as Taylor's adult son, watches.
An investigation by state park officials is ongoing, according to the statement released from the attorney's office. No criminal charges have been filed in the case.
"This is a unique case and investigators are being very thorough," the statement says. "The county attorney's office recognizes the public interest this case has generated and will carefully review the case when the investigation is complete."
— McKenzie Romero