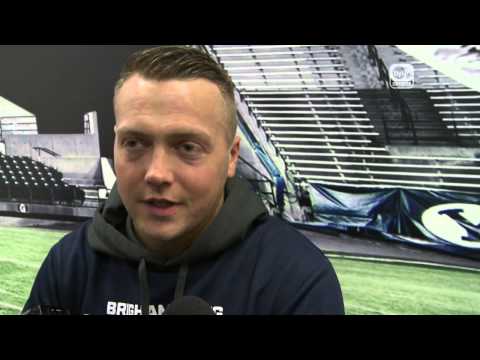 View 3 Items

It was more about living a normal life, and if I was able to play football again, that would be a bonus.

—Mike Hague
PROVO — To some, it may seem like defensive back Mike Hague has been part of BYU's program for forever, but it hasn't quite been that long.
In total, a full eight seasons have passed since the former Brighton High standout joined the team as a promising running back who played in all 13 games as a true freshman in 2006. Since that first year he's served a two-year LDS Church mission to Tennessee, switched positions, and dealt with more than his share of injury issues.
His latest injury, however, has been the most difficult and certainly the most unusual.
Hague was diagnosed IT band syndrome in the offseason — a common knee injury for people in their later years, but not necessarily for a football player in his mid-20s. He started feeling the effects of the injury last February, but it took awhile to correctly diagnose and then treat his ailment.
Hague finally went under the knife on June 30 — just one month before the start of BYU's fall camp.
"It was more about living a normal life, and if I was able to play football again, that would be a bonus," Hague explained. "I couldn't do anything. I couldn't walk; I certainly couldn't run around; I couldn't go up the stairs — just couldn't do anything."
While doctors treat a great variety of football injuries, it was difficult to find one that had treated a football player with Hague's specific injury. It left a lot of uncertainty regarding his recovery, but ultimately his knee responded well.
"I've felt healthy for a long time — almost right after I got the surgery done," Hague said. "But you just don't get back and start playing like that. I mean, it had been like five months since I was able to work out or do much of anything when I started working my way back into football shape."
Hague ultimately returned for BYU's 20-13 loss to rival Utah. Although he logged six tackles against the Utes, he didn't feel 100 percent until the team took on Houston a few weeks later.
Against Houston, he contributed a key play that helped lead to BYU's narrow win. With Houston deep in BYU territory late, Hague provided a sack that ultimately led to a missed field goal. Considering BYU won the game by a single point, the play was essential.
"It's exciting to make a play like that," Hague said. "I went home thinking that if I was going to contribute anything to the team this year, that play was a pretty good one. Obviously I plan on making more plays, and hopefully those opportunities will come, but to be there and to help out like I did, it definitely made all the rehab worth it."
Hague started at cornerback the following week against Boise State and aims to finish out the season — something he hasn't been able to do most years.
"Every year it seems as if it's something or the other, but hopefully this last one is the one I'm able to finish," Hague said. "I feel great. I feel like I'm 19 years old again running around out there."
Hague's play has been a welcome addition to the defense, and the team in general.
"He's been through so much, but he's tough; he's resilient; and he made a choice to come back when anyone could have left," said coach Bronco Mendenhall. "He loves the program and he's been a big addition to our team with what he's been able to do."
Hague's career hasn't gone exactly as planned, but he says he's ultimately thankful for his opportunities at BYU.
"It's been a battle and I've had a very unique, and probably not as productive college career, as I would have liked. But I think I've proven that when I'm healthy I can play at this level," he said. "It's been a huge blessing for me to be part of this program, and although my time here hasn't gone as planned, I'm thankful for every moment I've had here at BYU."
Twitter: @BrandonCGurney