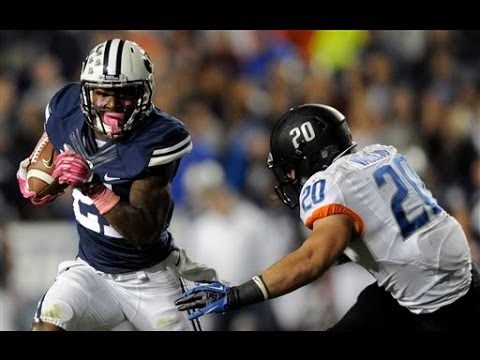 View 78 Items

PROVO — On the field at LaVell Edwards Stadium not long after BYU dispatched Boise State, 37-20, Friday night, athletic director Tom Holmoe eagerly accepted an invitation to the Fight Hunger Bowl in San Francisco on Dec. 27.
While coach Bronco Mendenhall was looking forward to seeing the Cougars (6-2) become bowl-eligible for the ninth consecutive year, he reminded everyone that there are a lot of important games to play before the bowl game.
And for the first time since going independent, BYU has a captivating November schedule, with a couple of high-profile games that could attract significant national attention.
The Cougars have a bye week before a showdown with nationally ranked Wisconsin of the Big Ten on Nov. 9 at Camp Randall Stadium.
The Badgers (5-2), led by former Utah State head coach Gary Andersen, had a bye this week and visit Iowa next Saturday.
"I'm thrilled to be able to go to San Francisco," Mendenhall said. "I look forward to playing the very best team we can play out of the Pac-12, then continuing a strong streak of bowl wins as well. I won't mention that again. I'm acknowledging it now because we just got invited and we accepted. So don't ask me again. We're going to Wisconsin next and that's really all I'll address."
BYU also has a game at Notre Dame on Nov. 23, and the regular-season finale at Nevada — which is senior linebacker Kyle Van Noy's hometown.
But first comes the bye week.
And the Cougars, who are riding a five-game winning streak, are looking to heal up. BYU lost a pair of key defensive backs — Daniel Sorensen and Mike Hague — to concussions against Boise State.
"Our team is going to need some rest and recovery," said Mendenhall. "I don't have the model yet down what we'll do through the bye week. But there will be some healing, some conditioning and some football. Then, when appropriate, we'll start to build into our game against Wisconsin."
More is expected to be learned about the status of Sorensen and Hague this week.
The Cougars are hopeful that both players are able to return for the Wisconsin game. Sorensen is a three-year starter at kat safety and he is extremely valuable not only to the defense, but also to the special teams.
"That was one of the first games we've ever played without Daniel Sorensen since he's been here," Mendenhall said after the win over Boise State. "It was different. (Safety) Craig Bills did a really nice job switching over and I'm so glad we had him back. It would be nice having them both playing at the same time. I was nervous and scared as I saw him on the field, same with Mike Hague. But I saw them both in the locker room (after the game)."
Bills missed the Houston game due to a concussion suffered against Georgia Tech. He returned Friday and forced a fumble.
"Danny's the best safety that's played at BYU, in my opinion," Bills said. "For him to be off the field, it's weird. Luckily, we have guys that can step in. Skye (PoVey) came played safety for us and I was able to move over to kat. I definitely don't want that to happen again, where Danny's not on the field."
BYU's defense forced four turnovers against Boise State.
"The turnovers were back-breaking," said Bronco coach Chris Petersen.
"That was one of the main differences in the game — being able to create turnovers and taking the football away," Mendenhall said. "I don't think we necessarily capitalized as well as we could have on those turnovers. But I think that had to do with the game's outcome."
Bills said the defense has been focusing on getting turnovers the past couple of weeks. The Cougars forced three turnovers against Houston.
Another big key for BYU's defense against Boise State was holding the Broncos to 2-of-5 on fourth-down conversion attempts.
"We knew all week that they were going to go for it on fourth down," said Cougar linebacker Alani Fua. "It's Boise State — that's what they do. But our team, we're physical. On fourth-and-one, we can stop them. That showed not only in this game, but last year, we stopped them five out of five times on fourth down."
"Boise's an aggressive team and they love to go for it on fourth down. Those stops are huge for emotional momentum as well as changing the game," Mendenhall said. "There's an emphasis that we place on it. Our players do a really nice job executing in those circumstances. Because we have good players, they find a way to make it happen."