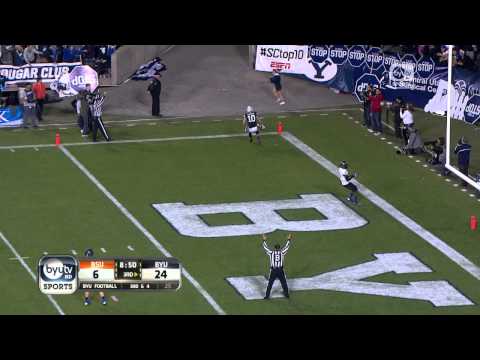 View 6 Items

College is the exclamation point on Taysom's speed. Doing what he does against Division I talent shows just how fast he is. For me, I didn't realize this until he got to BYU.

—Jordan Hill, Taysom Hill's elder brother
PROVO — Taysom Hill is carving out a niche in BYU football lore. His big brother says it's the real deal.
Polite, astute, soft-spoken, unassuming, unpretentious and a student of the game, Hill definitely gets fired up when the need demands it. Hill has quickly become a powerful leader on BYU's football team. That was evident after his best overall game, a 37-20 win over Boise State on Friday.
Whether chop stepping in the pocket, surveying a defense like Johnny Unitas, rocketing out of the pocket like Steve Young, or delivering laser passes downfield, Hill is creating a brand.
His coaches trust him. His teammates believe in him. His inaccuracy throwing the football — the last bastion of media and fan criticism of his game — has sloughed off and fallen by the wayside just eight games into his sophomore year.
Yes, what you see in Taysom is what he really is, according to his older brother Jordan Hill, who now lives in Denver after spending a decade in the Phoenix area following his Pac-10 football career at Arizona State.
"He's a heck of an athlete, but he's a better person," said Jordan.
Hill's athletic DNA is pedigreed and documented. So is his innate Sir Lancelot demeanor.
"I remember going to Disney movies with my friends. We were seniors but rolled with Tays, a 9-year old. Nobody minded; everybody liked him," said Jordan.
Seeing his little brother turn the corner on speedy linebackers before outracing Division I corners and safeties — a common occurrence in wins over Texas, Houston and Boise State — "is surreal" for Jordan. "He takes over games. It's hard to believe this is the little kid me and my friends would dress up in dress slacks, dress shoes, no shirt and a bow tie."
Taysom's innate kindness has always been there, said the brother. "It's a tribute to our parents. They instilled that in us and showed us. They'd give you the shirt off their backs," said Jordan.
Both his parents were athletes. His father Doug played football and basketball. His mother Natalie was a sprinter in high school. His brother Jordan played defensive tackle for the Sun Devils. Another brother, Dexter, was a quarterback at Scottsdale Community College, Northern Iowa and Dixie State. His sister Celeste had a basketball career at Western Wyoming.
In the Hill household, everything was competitive. The parents started the kids early. "The competive juices were bred into us from the beginning," said Jordan.
Whether it was a card or table game or a pickup basketball game in the backyard, nobody liked to lose and someone was always upset when they lost. "We are all very, very competitive."
Jordan was on an LDS mission and then playing at ASU when Taysom played high school football. He got to see just two games. It was there he first noticed his little brother had something special, but he had no idea how fast he was until he played for BYU.
"That kind of snuck up on us. We've all been quick, but watching him pull away from kids in Idaho was noteworthy. But what is speed against Idaho high school players? In high school he was a man among boys. He had that pizzazz, that wow factor, and it rubbed off with the kids he played with. He took over games."
The surprise came when Taysom did it against Division I talent, said the brother. It opened his eyes.
Jordan knows speed. As a Pac-10 defensive player, he studied it every week. He broke down films of Reggie Bush, saw what he did with his speed. So when he sat inside LaVell Edwards Stadium during the Texas game — and watched every other game during Hill's collegiate career — it hit him: The kid is not just quick. He is very, very fast.
"If he didn't get to the dinner table before me, he didn't eat. So he had to be fast," joked the brother.
"College is the exclamation point on Taysom's speed. Doing what he does against Division I talent shows just how fast he is. For me, I didn't realize this until he got to BYU."
Hill ranks among the nation's top seven football players in total offense. It's a pool that includes 238 schools and 26,325 athletes. He's rushed for 1,014 yards while losing 173, mostly on sacks. He averages 5.92 yards per carry and has scored eight touchdowns with his legs. As a passer, he has posted 2,019 yards and 12 touchdowns through seven games.
But as telling as his statistics are, Hill has emerged as a packhorse for the Cougars. Against Houston, he lifted the team on his back, overcame mistakes and willed BYU to a win with four touchdown passes. He was responsible in that game for a pass or run 68 percent of the time.
Against Boise State, his polish as a passer surfaced early and late with three touchdown tosses and a run for a fourth.
At midnight after the Texas game, most all the Hill family was dining at Chili's and hadn't seen one another in a long time. Near the end of the night, a few adults recognized Taysom and sheepishly intruded on the Hill table, saying a nephew was a huge fan and would love to have a picture with him. Taysom posed with those adults, patiently taking his time. He asked their names and how they were doing and didn't rush anything. He was genuinely friendly — not fake, not putout.
The family waited it out. Jordan was extremely proud, not only of the eye-popping performance of his brother against Texas, but the entire package that stood before him as a man.
"This is what's fun for me," said the older brother. "He is excelling at this level, but he hasn't lost sight of who he is."
Dick Harmon, Deseret News sports columnist, can be found on Twitter as Harmonwrites and can be contacted at [email protected].