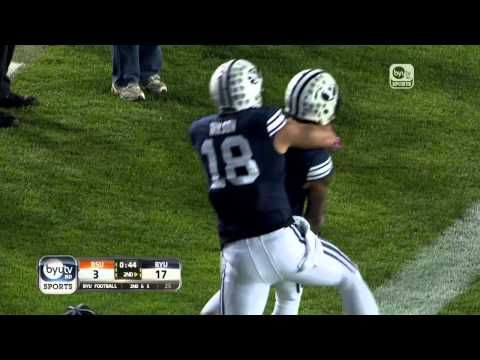 View 6 Items


It's crazy. It's a surreal feeling. Coming out of high school, barely being recruited, thinking that I'd come to a major program like this and rewrite the record book, I never thought that would have happened.

—Cody Hoffman, BYU receiver
PROVO — Another game, another receiving record for BYU's Cody Hoffman.
The senior wide receiver eclipsed Austin Collie's all-time BYU touchdown receiving record Friday night in the Cougars' 37-20 victory over Boise State.
Hoffman has 31 career TD receptions, one better than Collie's 30.
"It feels amazing," Hoffman said. "I'm almost speechless about it because it was set by such a great player before me. It's not an easy record. I take a lot of pride in it."
A week ago in a win at Houston, Hoffman surpassed Dennis Pitta for career receptions. Pitta had 221. Hoffman now has 232.
Hoffman is expected to break yet another record when the Cougars visit Wisconsin on Nov. 9. He needs just 14 receiving yards to overtake Collie as BYU's all-time leader in receiving yardage. Hoffman has 3,242 yards, while Collie recorded 3,255.
"It's crazy. It's a surreal feeling," Hoffman said about setting so many records. "Coming out of high school, barely being recruited, thinking that I'd come to a major program like this and rewrite the record book, I never thought that would have happened.
"I haven't really thought much about it. I don't want it to affect the way I play," Hoffman said. "But it's been in the back of my head. It's been on my mind. It gets easier every week, with breaking the records. It's a little bit off my shoulders and I can concentrate more and do what I do best."
Quarterback Taysom Hill is more than happy to help Hoffman break those records.
"I love playing with Cody. The thing about Cody is, you never hear about being close to breaking records," Hill said. "Cody is a guy that wants to win football games. He's very unselfish. That carries over as an offensive unit. Our other receivers love him because he gets so much attention from the defense. I feel honored to have thrown him the touchdown pass that sent him over the edge."
Against Boise State, Hill completed passes to nine different receivers. He completed 27 of 41 passes for 339 yards, three touchdowns and zero interceptions. Hill also ran 18 times for 69 yards.
"I feel like I've gotten better every week," Hill said. "Not only have I gotten better, but us as an offense have gotten better. I realize I play a position that's always in the limelight, so it's easy to talk about my progression, but it's been a team thing; it's been an offense thing. We've found an identity. With a new staff and a new system, it's took a little bit of time. But we found it."
While there's plenty to improve on for the offense, Hill liked the fact that his team didn't turn the ball over — even though the Cougars failed to take full advantage of Boise State's four turnovers.
"We squandered a few points there, but offensively we played really well. We jelled today," Hill said. "We had a couple of drive killers, false starts and things like that, which we need to clean up. But as far as securing the football, that was big. I don't know how many (turnovers) they had, but that was the difference in the football game."
Coach Bronco Mendenhall loves what he's seen from Hill.
"He's one of the best players that I've ever coached. He's really good," he said. "If you watched him, especially in the first half, the ball's going right on the money to different players. He's poised and he's composed and it looked like the game was really slow for him. He seemed always ahead of it. The minute a receiver was open, the ball was delivered right there. That was fun to see."
Mendenhall said his team continues to improve every week.
"We're gaining momentum and we're making progress," he said. "The system changes that we put into place are producing. We're scoring a lot of points and we're not giving up many. Those kinds of teams are hard to beat."
"The offense is playing phenomenal right now," Hoffman said. "We're getting better every week and it's showing statistically. We're putting up more points and our defense is amazing, like they have been. Holding Boise to 20 points was huge and for our offense to put up so many points is a big momentum boost for us."