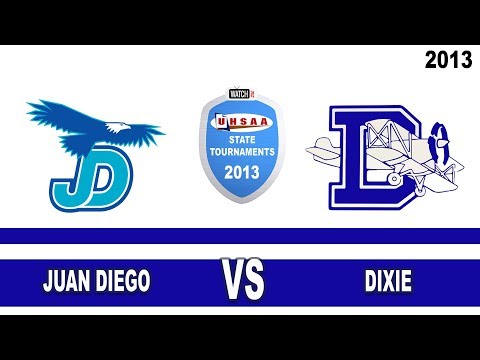 View 19 Items

No matter what, I have great friends on the team, friendships that have formed, and I'm so glad. The state championship just adds to it.

—Elizabeth Empey
SANDY — Dixie girls soccer coach Burt Myers literally had to beg goalkeeper Elizabeth Empey to play on his team this fall.
An experienced 'keeper, the senior had decided to move away from soccer two seasons ago. However, due to a move-out and an illness, the Flyers suddenly found themselves without a goalkeeper entering the 2013 season.
"I called her. (She said), 'I don't know … '" the coach said. "I said, 'Please, Liz. I think we've got a state championship team.'"
Myers' recruiting efforts ultimately paid off just as he had imagined. Led by Empey's play in the net, Dixie battled to a 1-0 victory over Juan Diego in the 3A championship match at Rio Tinto Stadium Saturday evening.
"When the coach called me, I wasn't planning on it," Empey said of her move from the sidelines to back in goal. "Me and my parents talked about it and we decided it would be the best."
She remained happy with the decision throughout the season, in which the Flyers lost just two games and gave up just 15 goals, and into the championship match. In the 54th minute Saturday, the goalkeeper watched freshman teammate Elizabeth Durrant score the only goal of the title match not long after a halftime talk that re-energized the Flyers' game plan.
"We were getting in too tight," Myers said. "We said, 'The way they're playing us, if we can just get one behind them, to the corners, we'll use our speed and we'll get a shot or two.' A little freshman girl put it on her left foot, put it up in the upper 90, and nothing the 'keeper can do about it."
Scoring, however, did not relieve the nerves of the Dixie coaching staff.
"I told my assistant coaches, 'This is going to be the longest 26 minutes of your lives,'" Myers said, "and it was."
Juan Diego responded with a handful of shots on goal, keeping Empey and the Dixie backline working until the final seconds. Empey knocked down a shot by Soaring Eagle senior Kristen Shimkus in the 75th minute, and then freshman Anna Ewoniuk hit a shot off the crossbar two minutes later.
"A girl had a point-blank shot and Liz stretched out, laid out and knocked it down," Myers said of Empey's first big save. Of her second, the senior credited her height.
"I'm tall so, if I jump my highest I'm over the bar," she said. "My biggest fear is it dropping behind my hand and timing it wrong, but lucky enough for me that one hit the bar and it was perfect."
1
comment on this story
Juan Diego, the top team from Region 10, met all four Region 9 teams — Pine View, Snow Canyon, Cedar, and then Dixie — during its tournament run. The Soaring Eagles were led throughout the year by sophomores Emily Pascua, who had nine goals, and Ashley Buck, who had eight goals.
Junior forward Aubri Challis was the Flyers' scoring leader, notching 18 goals on the season. Empey ultimately totaled 10 shutouts in her final prep season.
"I'm very happy," she said of her decision to play. "No matter what, I have great friends on the team, friendships that have formed, and I'm so glad. The state championship just adds to it."
Sarah Thomas earned a degree in Mathematics from the University of Utah and is currently pursuing an MBA at Westminster College. She has been covering sports for the Deseret News since 2008.