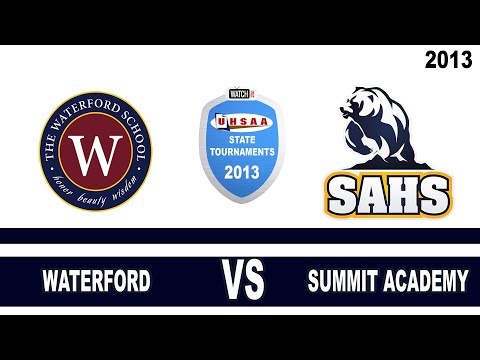 View 32 Items

We got close last year, got knocked out in the quarterfinals, and these girls just wanted it bad this year. These girls have worked so hard. There's not a more deserving team than this team.

—Krystin Wingert, Summit Academy head soccer coach
SANDY — The Summit Academy girls soccer team capped a stellar playoff run at Rio Tinto Stadium on Saturday afternoon.
In the 2A state title match, the Bears took down their third consecutive No. 1 seed with a 2-1 victory over defending champion Waterford to take home the championship trophy in just the second year of the program.
"We got close last year, got knocked out in the quarterfinals, and these girls just wanted it bad this year," said head coach Krystin Wingert, whose team was the third seed from the 2A North region. "These girls have worked so hard. There's not a more deserving team than this team."
The Ravens took the early lead with a goal from Waterford junior Caroline Coats in the 29th minute before Summit Academy senior Ali Gorringe evened the score just five minutes later.
A midfielder, Gorringe blamed herself for giving up the first goal and put it on herself to put the Bears back in the game.
"That goal was kind of my fault and I wasn't going to have it," she said. "I didn't want to lose my last game. Everyone was really mad after that. We just kind of took it back and got it up there, and I scored."
Summit Academy took the lead in the 55th minute when sophomore forward Juliana Stratford controlled a rebound and sent the ball into the net.
"Both are new additions this year," Wingert said of Gorringe and Stratford, adding that the team went through a rebuilding phase after returning just eight players due to the opening of Corner Canyon High School
"I don't even have the words to describe how awesome they are," she said. "Gorringe has come in and stepped into our midfield and helped our midfield come together. And Juliana Stratford is a very aggressive player. They just want it. Both of these girls just want it. The entire team wants it."
The Ravens, who had won five of the last seven titles, had not lost to another 2A team all season. They were led throughout the year by Coats, who had a team-high 11 goals, and goalkeeper Lauren Groathouse, who totaled seven shutouts this season.
The Bears, on the other hand, started the season with four losses in their first six games. They lost just two after that point, including one to Waterford in the 2A North tournament, before winning five straight, including victories over top seeds Manti, Millard and then Waterford, en route to the title.
Comment on this story
"We kind of had a rough start to the season, but there was something different (this year)," Wingert said. "We are a better passing team this year, and that's how we win games. We can pass around teams."
Senior forward Chelsey Keefer led the Summit Academy offense with 16 goals and junior Courtney Shoell had 11.
"I'm just proud of my team because we really pulled it out," Gorringe said. "I feel like we're starting something really, really big. And I feel like this is a team that will continue winning and being a state championship team. It's really important to me to be a part of that."
Sarah Thomas earned a degree in Mathematics from the University of Utah and is currently pursuing an MBA at Westminster College. She has been covering sports for the Deseret News since 2008.