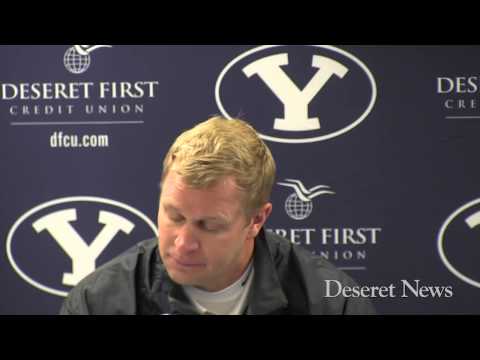 View 78 Items

It's been awhile since I got some balls across the middle and balls in general. I was just so excited that when I got that [first pass] I just wanted to make some yards.

—BYU tight end Devin Mahina
PROVO — Tight ends have been almost absent on the BYU passing tree for the better part of the season, but that changed Friday night against Boise State.
From the outset, quarterback Taysom Hill and the offense made a concerted effort to get the tight ends involved early and often. Seniors Kaneakua Friel and Devin Mahina were particularly integral in the Cougars producing 37 points and 568 yards of offense in a dominating performance
Their respective involvements likely caught the Broncos a bit off guard, considering their combined three receptions for just 41 yards prior.
Friel finished the game with three receptions for 53 yards while Mahina contributed four for 40 yards. Both of them knew they'd get opportunities with starting Y receiver Brett Thompson banged up and unlikely to play.
"It's been awhile since I got some balls across the middle and balls in general," Mahina said. "I was just so excited that when I got that [first pass] I just wanted to make some yards."
Mahina contributed a key reception early but followed it up with a drop. Instead of taking Friel off his passing tree, Hill had enough confidence to go to Mahina on the very next play, which went for big yardage and a big first down.
"Right after [my drop] I went right up to Taysom and told him not to worry — I'd get the next one," Mahina related. "That's the kind of thing the quarterback wants — to know that you're not down and you're not just going to slump around, but come right back and make a play. I'm grateful and glad that he had enough confidence to come back to me."
Not slumping around has been a challenge for Friel, who had 30 receptions and five touchdowns last season. Offensive coordinator Robert Anae's offense has departed from heavy use of the traditional tight in favor of quicker, shiftier inside receivers.
"At first it was hard for me to stay engaged because I wasn't getting the ball," Friel said. "Through the first two weeks of the season I just told myself that I still have a responsibility and I need to be grateful for what I do have and for what I've been doing in the game. I think as I've improved with that, that things have started coming my way."
Email: [email protected]
Twitter: @BrandonCGurney