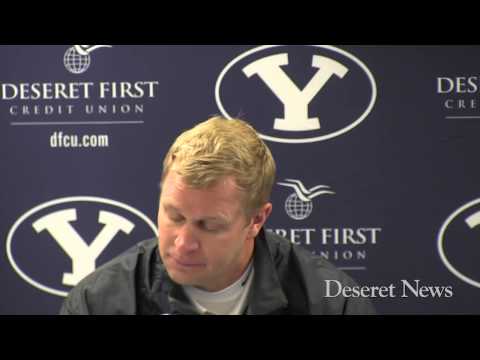 View 82 Items





The game has slowed down for him and it's fun to watch. He is going to be a great one.

—BYU coach Bronco Mendenhall, on Taysom Hill
PROVO — Now it is Boise State's turn to stew.
A stingy BYU defense and a play-happy offense throttled Boise State 37-20 Friday night at LaVell Edwards Stadium.
BYU climbed to 6-2 on the year, gained bowl eligibility for the ninth-straight season, lengthened its win streak to five games on national TV, and earned a chance to be ranked heading into a huge game at Wisconsin.
For the purists in Provo, it was a first-class takedown of the Broncos. Simply put, it was the Cougars' turn.
It was payback for two seriously frustrating BYU losses to the Broncos in Boise in 2004 and 2012. In 2004 a missed chip-shot field goal by Cougar Matt Payne cost the Cougars a rare win over the Broncos on their famous blue field. A year ago, a pick-six by Cougar senior Riley Nelson, playing with a broken back, was the difference in a 7-6 loss to then No. 24-ranked BSU.
The Cougars, and every other school in Utah, had been snake bit by Boise State, which stood 21-0 against Beehive State football teams before BYU's win Friday.
This time victory was clear as the fall day was perfect.
Even with BYU's offense taking half the second half off and the defense missing a bevy of missed tackles, coach Bronco Mendenhall's team produced a dominating performance. The Cougars came out on fire and held a 203-37 yard advantage in total offense during the first 15 minutes.
BYU led 31-6 after a Taysom Hill to Mitch Matthews 40-yard strike midway through the third quarter.
Hill, a native of Idaho, backed up his spectacular performance on the road at Houston with three TD passes Friday. He finished the game by completing 27 of 41 passes for 339 yards and a pass efficiency rating of 159.5. He also rushed 18 times for 76 yards
In the past two games, Hill has completed 56 passes for 756 yards and seven touchdowns.
At this stage, one could say BYU is firmly back in the quarterback business. And that's a good sign heading to Madison, Wis. If BYU continues its run, the Cougars could break into the rankings.
This QB deal is perhaps the biggest piece of the puzzle.
Back in 2004, the Cougars were hurting at quarterback. They'd just finished a merry-go round with Matt Berry and John Beck. They were just getting settled with Beck and lost to the Broncos by that painful field goal.
In 2012, BYU's quarterback situation operated out of a hospital wing. BSU clipped the Cougars by one point and didn't score an offensive touchdown.
The big turnaround for BYU — recognizing that Boise State of 2013 is not the Broncos of most of this century — is the QB position.
When the Cougars find, display, cultivate and put a healthy big-play quarterback on the stage, it makes all the difference in the world.
Once BYU settled on Beck and then Max Hall from 2006 through 2009, the Cougars finished ranked 16th, 14th, 25th and 12th.
Hill was key in Friday's win over a quality Chris Petersen football program.
Hill is now that guy — unquestioned, unchallenged.
"One of the best athletes I've ever coached," said Mendenhall.
"The game has slowed down for him and it's fun to watch. He is going to be a great one."
Two big concerns loomed in BYU's win over the Broncos. Senior captain and safety Daniel Sorensen got knocked out on the sidelines and never returned.
The Cougar offense, once again, looked outstanding, but then looked like it got tired and did very little to end the last quarter and a half after holding a 31-6 lead.
Last Saturday standing outside the locker room in Reliant Stadium in Houston, Hill said his greatest desire was for the offense to play a complete game.
Hill and the offense are still in a holding pattern.
That will be a point of focus this week as the Cougars have 15 days to rest and prepare for the Badgers.
"That first half was as dominating performance as I've had against a quality opponent since I've been here," said Mendenhall. "It was really strong football."
BYU's win ended a 50-game win streak by Boise State in the month of October.
That is a feat nobody's seen out of the nation's winningest programs since Oct. 6, 2001.
And that will gnaw at BSU — just like BYU's last two losses to the Broncos — until they meet again next year in Boise.
In Provo, that settles in just fine.
Dick Harmon, Deseret News sports columnist, can be found on Twitter as Harmonwrites and can be contacted at [email protected].