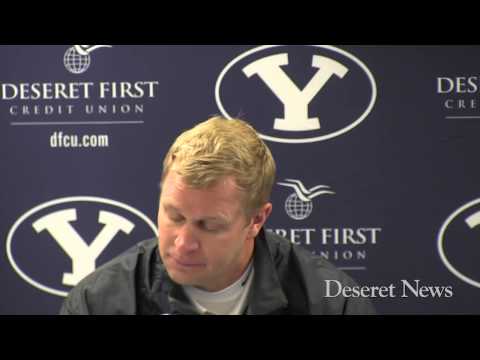 View 81 Items




You've got to look at your schedule and see who else in on there. The one thing I know about BYU is, they're always going to be a really good opponent. We've played a couple league games and now we have this really good opponent that's not in our league that we have to deal with.

—Boise State coach Chris Petersen
PROVO — BYU and Boise State met Friday at LaVell Edwards Stadium, and the two teams are scheduled to meet every year through the 2023 season.
What does Bronco coach Chris Petersen think about this long-term deal with the Cougars?
"You've got to look at your schedule and see who else in on there," he said. "The one thing I know about BYU is, they're always going to be a really good opponent. We've played a couple league games and now we have this really good opponent that's not in our league that we have to deal with. That's hard. But with that being said, everybody has so much respect for BYU around here. It's such a good opponent, and a lot of people like to see that game. There's interest and all those types of things. For us, in some ways, it's a little bit of a double-edged sword, to play that good of an opponent that's not in your league, especially when you're playing them late — like I said, that's kind of hard."
Petersen understands why this game matters to Boise State fans. The two schools are relatively close geographically, BYU has a strong tradition, and there's a large LDS Church population in the state of Idaho.
"BYU's got a great name, and they're always known for playing good football," Petersen said. "It's all those things that make it a big name."
PETERSEN AND MENDENHALL: BYU coach Bronco Mendenhall said he has a strong relationship with Petersen.
"He's a great friend and a really good person. In the head coaching world, he's one of the good guys," Mendenhall said. "I think he has balance and priorities in his life. A really good marriage, a great family and he runs his program with a lot of class."
On Friday, Petersen coached his 100th game as a head coach. He entered the game with an 89-10 record, making him the winningest active coach in the Football Bowl Subdivision.
RIDLEY OUT: BYU senior wide receiver Skyler Ridley sat out of the first half of Friday's game for a targeting foul last week at Houston.
RESPECT FOR BOISE: BYU quarterback Taysom Hill, who hails from Pocatello, Idaho, was asked this week if he considered going to Boise State when he was being recruited out of high school.
"A little bit," he said. "I was never really intrigued by it. I have a lot of respect for Boise State, but I feel like I wanted to get out of state a little bit."
KVN3.COM: BYU's athletic department announced Friday it has launched a new website centered around All-America linebacker Kyle Van Noy.
The site, KVN3.com, "was designed to provide award voters, media members and fans a source" to keep up with Van Noy's stats and highlights.