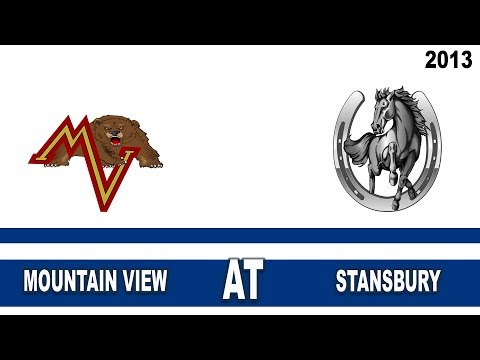 View 13 Items

Our line did a great job all night long, and we were running free all night.

—Alex Mackay, Stansbury running back
STANSBURY PARK — It was the final regular season game for each side as the Stansbury Stallions hosted the Mountain View Bruins Friday night. One team played for pride, while the other tuned up for the playoffs. The team tuning up for the playoffs looked as good as ever. Stansbury won 49-28, rushing for 582 yards and putting on an offensive clinic. Nick and Alex Mackay combined for 351 yards and five touchdowns, while Alex eclipsed the 1,000 yard mark, rushing for 235 yards and three scores.
"Our offensive line did their jobs all night," Nick Mackay said. "They opened up big holes for us, and all we had to do was run hard."
Alex Mackay got things started on Stansbury's opening drive when he found the end zone from 30 yards out. Alex kept it going on the next drive when he scored from 37 yards out to give the Stallions a 14-0 lead.
"I echo what Nick said," Alex Mackay said. "Our line did a great job all night long, and we were running free all night."
The Bruins answered on the ensuing drive with a touchdown. Jaren Flaker found Parker Hunsaker for a nine-yard touchdown pass, putting the score 14-7 heading to the second quarter.
Each Mackay scored once more to finish out the half, and Flaker found George Beaton for a 66-yard touchdown pass later in the second quarter, boosting the score to 28-14 heading into the half.
Gage Manzione joined the scoring for Stansbury early in the third when he punched it in from five yards out, and he scored again from eight yards out later in the quarter to make it 42-14.
Nick Mackay scored again midway through the fourth, and Flaker found Brady Lindley and Sefa Teaupa for touchdowns to finish off the scoring.
Game notes: Stansbury had three different players rush for 100 yards or more for the second straight week. Josh Mulivai rushed for 152 yards, Jesse Horowitz rushed for 100 yards, and Alex Mackay had 235 and three scores. Stansbury has a first round bye next week, and it will host the winner of Desert Hills and Uintah in the quarterfinals the following week.
CJ Pronk is a Deseret Digital Media intern and a Stansbury High School graduate. After serving an LDS mission to the Dominican Republic, he will attend Southern Utah University. Follow him on Twitter @BigCeeJ3113.