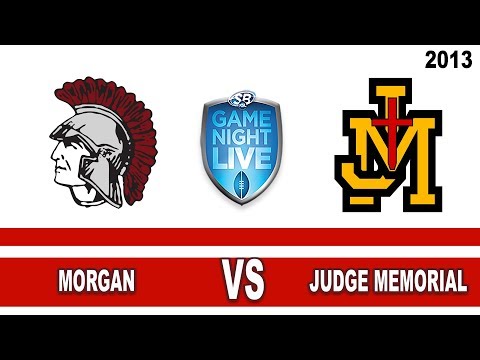 View 7 Items
Buy photos


I've had some pretty good teams but the solo region championship has eluded me.

—James Cordova, Judge football coach
SALT LAKE CITY — Judge football coach James Cordova finally has that elusive outright region title.
The Judge alum had come close on several occasions in his previous 10 years as coach, but this year's team finally got him over the hump on Friday night thanks to a strong defensive effort in a 28-14 title-clinching victory over visiting Morgan.
"I've had some pretty good teams, but the solo region championship has eluded me," said Cordova.
After Friday's win, this year's team ranks right up there with the best of them, and will be ranked No. 1 in 3A heading into next week's playoffs. Cordova said his only focus will be on the Bulldogs' quarterfinal foe.
"We're going to focus on North Sanpete. That's how you get beat: You focus down the line," said Cordova, whose team is on an eight-game winning streak.
On Friday, Morgan had Judge's full and undivided attention. In last year's playoffs, Morgan trounced Judge in the first round, 30-0, and that loss was fresh on everyone's minds.
It took the Bulldogs awhile to get going, but once they hit their stride Morgan's defense struggled to get stops.
Tied 7-7 late in the first half, Sean McMininee scored on a 49-yard touchdown pass from Kaden Elliss, and Judge carried the momentum into the third quarter as Mark Barnett and Max Barnett both scored touchdowns, extending the lead to 28-7.
"We went in and we talked about focusing on what we do and getting off the ball. That was our whole objective — move our feet and get off the ball," said Cordova. "We were really slow in the first half. Our feet were in cement."
Ellis summed up Cordova's speech best, "We're not baby Bulldogs anymore; we're full grown."
It worked to perfection as the mighty Bulldogs opened the third quarter with an 18-play, 83-yard drive to increase the lead to 21-7. When Morgan turned the ball over on downs on its ensuing drive, Judge scored two plays later on a Max Barnett 54-yard score for the 28-7 lead.
Barnett finished the game with 133 rushing yards and two touchdowns as the Bulldogs tallied 389 yards of total offense — all of it on the ground except McMininee's 49-yard catch.
Morgan finished with 317 yards of total offense, and in the first half it looked poised to potentially upset the top-ranked Bulldogs.
After falling behind 7-0 at the 6:19 mark of the first quarter, Morgan responded with a 19-play, 92-yard drive that ate 8:54 off the clock.
"You can never count Morgan out. They're physical; they're tough; they do what they do better than anybody," said Cordova.
The Trojans had seven first downs on the drive that Matt Murdock capped on a 10-yard TD run. Murdock finished with 103 yards on eight carries.
Unfortunately for the Trojans, three of their next four drives resulted in turnover on downs until they finally put points on the board again on Ben Saunders' 11-yard TD rush with 2:54 left in the game.