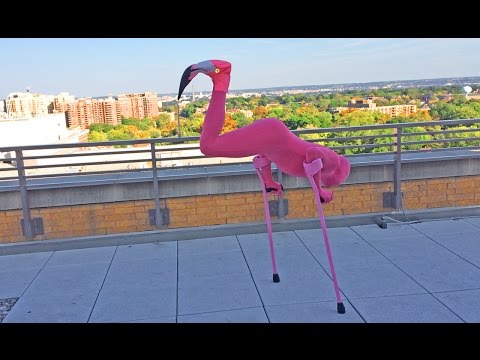 View 3 Items

When Josh Sundquist was 9, his leg was amputated to save his life after he was diagnosed with Ewing's sarcoma, a type of bone cancer. Now 29, he's a Paralympian, a motivational speaker, a video blogger, an author — and an extraordinarily creative Halloween costumer, too.
In 2010, Sundquist dressed up as a partially devoured gingerbread cookie. In 2012, he shaved his leg, donned a black stocking and became the leg lamp from "A Christmas Story." This year, he's unveiled a costume that's unusual not only for its design, but for the fact that he can only pull it off because he's an extremely strong, gifted athlete.
Sundquist, who competed in the Paralympics in Torino, Italy, in 2006, puts a slipper that looks like a bird head on his foot, then slips his forearms into a pair of brightly painted crutches and raises his lower body. After he adjusts his angle slightly, he's a flamingo.
"Literally all year I've been looking at shapes and thinking, 'What is a shape that I can make with my body that other people can't?'" Sundquist told The New York Daily News.
"When you spend all day on crutches, you have the strength to do seemingly weird things that look harder and more dangerous than they are," Sundquist, who lives in Arlington, Va., told the Daily News. "But I wouldn't recommend trying this at home."
Sundquist put the photos on his personal blog at joshsundquist.com, then tweeted them. His "#AmputeeHalloween" photos have since been picked up by media around the world.
When he was diagnosed with the bone cancer, doctors said his chance of survival was 50-50, he has said.
"But he survived and after losing his leg to amputation, he's put his disability to good use: he's now a motivational speaker, a member of the U.S. Amputee Soccer Team, bestselling author, YouTube personality and founder of LessThanFour.org, the world's largest social networking website for amputees," wrote Joshua Gardner of The Daily Mail. "While his latest costume pales in comparison to these achievements, it still manages to be just as uplifting."
You can check out a video explaining his choice of costume on YouTube.
EMAIL: [email protected], Twitter: Loisco