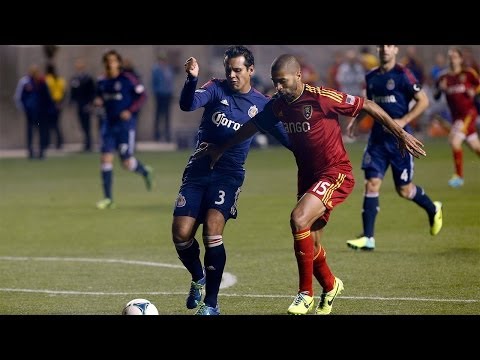 View 45 Items


Tony had gone through a spell where he just didn't really look like himself, and I thought he needed a break. And couple that with the fact Lovel Palmer was playing very, very well for quite a few weeks, it felt like the right move.

—Jason Kreis
SANDY — Real Salt Lake coach Jason Kreis didn't dance around the subject when asked earlier this week why Lovel Palmer got the starting nod at right back over incumbent Tony Beltran in Portland last weekend.
He said Beltran had been struggling as of late, while Palmer had been playing great.
"If you have one player who is playing extremely well, then he needs to be rewarded and given a chance in the starting lineup," said Kreis.
Palmer was instrumental in Real Salt Lake earning a shutout in Portland last weekend, and he was rewarded with another start Wednesday. Unfortunately for Palmer, it was a short-lived appearance. He injured his left hamstring just seven minutes into RSL's ultimate 2-1 win over Chivas and was replaced a few minutes later by Beltran.
Kreis thought Beltran was solid jumping into the game on short notice, and stressed afterward that Palmer's opportunity was in no way a knock on Beltran.
"Tony had gone through a spell where he just didn't really look like himself, and I thought he needed a break. And couple that with the fact Lovel Palmer was playing very, very well for quite a few weeks, it felt like the right move," said Kreis. "It doesn't take anything away from Tony Beltran. It's a credit to Lovel Palmer and the work he does and it's a credit to the team philosophy."
There's no word yet on the extent of Palmer's injury, so there's a very good chance Beltran will find himself right back in the starting lineup for Real Salt Lake's playoff opener next weekend.
FEELING GOOD: Javier Morales told RSL's coaching staff Tuesday that he wasn't fit enough to play 90 minutes. He did, however, feel good about going 45 minutes, and with Wednesday's game scoreless at halftime inserting Morales into the game was a no-brainer.
Morales made a big impact upon entering the match, and afterward said he came off the pitch relatively unscathed.
"It's getting better. The last 10 minutes it started to get tight and I started to feel it a little bit again, but I have to keep working. I have 10 more days until the next game. I think I'll be OK," said Morales.
RARE PAIRING: For just the third time this season, Real Salt Lake holding midfielders Kyle Beckerman and Yordany Alvarez were in the starting lineup together. And just like the previous two occasions, RSL stuck to its diamond midfield — with Alvarez playing the holding position and Beckerman starting out wide.
The pairing only lasted until halftime, as the defensive-minded Alvarez was replaced by Morales.
The other two games Beckerman and Alvarez started together were last weekend's draw at Portland and then during RSL's 3-2 U.S. Open Cup third-round win against Atlanta.