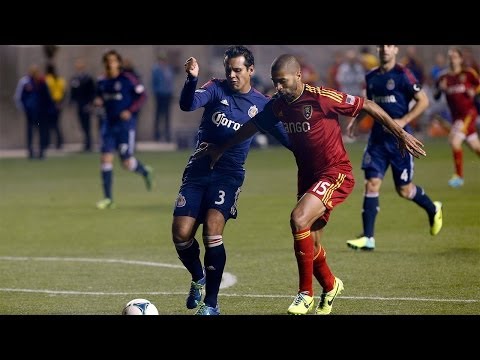 View 45 Items


We talked at halftime about trying to push things, push the point of attack and really go for things a bit more and step up in their half and press.

—Ned Grabavoy
SANDY — Real Salt Lake is the leader in the clubhouse, and now it waits.
Despite a shaky first half and a frenetic final 15 minutes at Rio Tinto Stadium, RSL polished off Chivas USA 2-1 in its regular-season finale Wednesday to move to the front of the MLS Supporters' Shield race.
Staying there will require a bit of luck.
The rest of MLS wraps up play this weekend, and Real Salt Lake needs three favorable results to claim the Supporters' Shield for having the league's best regular-season record. It needs Kansas City and Portland to lose or draw on Saturday, and then New York must lose on Sunday.
The series of results is unlikely, but that's OK with RSL defender Nat Borchers.
"If it happens for us, great. If it doesn't, we put ourselves in a great position to make a run," said Borchers.
Wednesday's result guaranteed Real Salt Lake no worse than a second-place finish in the West, which means it will open the conference semifinals on the road — either Saturday, Nov. 2 or Sunday, Nov. 3.
Jason Kreis said he'll be anxiously watching every minute of every game this weekend to learn his team's playoff fate, but said he feels good about the momentum his team generated by grinding out the victory.
Real Salt Lake also rediscovered some of its attacking prowess in the win. It came into the game with just three goals scored in its previous six matches, and with the score level at 0-0 at halftime, it looked like things were shaping up to be another frustrating night.
That all changed early in the second half, though, as the insertion of Javier Morales sparked two quick goals.
"We talked at halftime about trying to push things, push the point of attack and really go for things a bit more and step up in their half and press," said midfielder Ned Grabavoy.
Kreis was disappointed it took a halftime reminder for his players to start pressing.
Heading into the match, Kreis said he wanted to see his players take some risks around goal and "shoot the ball." Throughout the first half, though, they weren't taking those risks frequently enough.
"The energy wasn't good enough. The movement in the midfield wasn't good enough," said Kreis.
The insertion of Morales at halftime helped change all that. The midfielder has been nursing an ankle injury for a few weeks now, and the coaching staff elected to start Yordany Alvarez instead. RSL was a different team when Morales came on the field.
In the 48th minute Joao Plata took a shot from distance that ricocheted off the arm of Chivas' Mario de Luna, and resulted in a penalty kick that Alvaro Saborio easily finished off for the 1-0 lead.
Three minutes later Plata again had a go from distance. This time, however, no appendage was there to block his shot as he curled a 22-yard blast just past the diving fingertips of Chivas 'keeper Tim Melia.
With the 2-0 lead, RSL continued to push the attack and had numerous chances to add a third and possibly a fourth goal. None were more point-blank than Grabavoy's one-v.-one opportunity in the 56th minute, but his close-range shot was turned away.
The inability to finish off the game nearly came back to haunt the home side.
In the 77th minute, Chivas pulled a goal back as Julio Morales slipped in behind Real Salt Lake's backline and chipped a shot past Nick Rimando to whittle the deficit to 2-1.
The Goats made RSL sweat out those final 10 minutes, but the home side ultimately grinded out the victory, which Kreis said could be a good thing heading into the playoffs, where every match is a grind.
Ironically enough, RSL now needs Chivas' help to try and claim the top seed in the Western Conference. Even if New York and Kansas City don't cooperate this weekend in the Supporters' Shield race, RSL will nonetheless win the West if Chivas can get a result against Portland on Saturday.