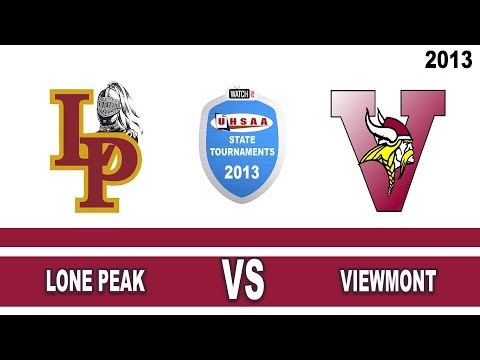 View 2 Items

DRAPER — Four seasons, four title matches.
With a narrow, 1-0 victory over Lone Peak in the 5A semifinal matchup Tuesday evening, the Viewmont girls soccer team has reached its fourth consecutive state championship game — a rare accomplishment in any sport.
"It's just something special," head coach Emalee Tate said. "I know a lot of teams don't have the opportunity even once, so to be able to go back multiple times is something special and a tribute to the girls on the team. We're excited to be back."
Making the trip to Rio Tinto Stadium has now become somewhat of an expectation among the soccer players at Viewmont High.
"This is only my second year at Viewmont," said Tate, "and the coach before me, Eric Landen, did such a fantastic job preparing the girls and really set a standard that the girls have continued to live up to year after year after year. Now it's something they expect out of themselves."
The Vikings finished second the first two seasons and then defeated Alta for the title a year ago. Reaching that final game for a fourth time has been a team goal all season in an attempt to defend their championship.
"We knew we had a target on our back and we knew we needed to defend it," said Viewmont goalkeeper Haley Johnson. "The opportunity to win it again is indescribable and such a blessing."
Heading into the semifinal match, Johnson understood the size of the obstacle Lone Peak, the No. 2 seed from Region 4, created between her team and Rio Tinto Stadium.
"Honestly, going into this game I threw up twice, I was super nervous," she said. "Everyone came up and told me, 'be the 'keeper I know you can be," and I knew what this game meant to us. I just came out and did what I needed to do."
The senior goalkeeper, who now has 11 shutouts on the season, provided a handful of difficult saves throughout the contest, including two diving stops in the final minutes.
"Haley had a fantastic game today," Tate said. "(She) really stepped up for our team and did a great job."
The Knights controlled the tempo of the game throughout most of the first half, and it wasn't until the 54th minute that Viewmont finally broke through with the game's only goal.
"Lone Peak did a fantastic job of taking us out of our game in the first half," Tate said. "We made some adjustments in the second half, and our girls responded very well.
2
comments on this story
"I thought we were able to maintain possession much better and obviously get a couple of good chances. We got a great through ball, and Kaitlyn Palmer ran onto it and put one away for us. It could have gone either way, and we're happy with the result."
The Vikings will meet Brighton in the championship on Friday. Viewmont lost to the Bengals 3-1 in the second game of this season and 1-0 in a double overtime championship contest back in 2010 — the first of the Vikings' four-title run.
sthomas@desnews.com
Sarah Thomas earned a degree in Mathematics from the University of Utah and is currently pursuing an MBA at Westminster College. She has been covering sports for the Deseret News since 2008.