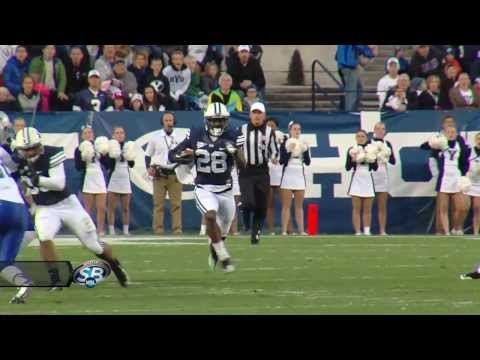 View 4 Items



Coaches do a great job of emphasizing that special teams isn't anything less than offense or defense — that your role is just important.

—Daniel Sorensen, BYU football player
Over the past couple of years, BYU has stressed the importance of its special teams unit. While most teams put out their second, third and fourth stringers for special teams plays, BYU includes some of its top offensive and defensive players.
Those defensive starters include defensive captain Daniel Sorensen and Spencer Hadley, as well as All-American linebacker Kyle Van Noy. What these players have contributed on punt and kickoff coverages has turned the field position battle in favor of BYU, not to mention of a few scores as well.
"It's just another part of the game where we can help both the offense and the defense with field position," Sorensen told the Deseret News. "Coaches do a great job of emphasizing that special teams isn't anything less than offense or defense — that your role is just important."
Return specialists JD Falslev and Adam Hine have benefited from their teammates opening up huge lanes for them to run through. Falslev has racked up 239 yards on 25 attempts for an average punt return of 9.6 yards. Falslev also has one touchdown on the year, going 71 yards against Middle Tennessee.
On kickoff returns Hine has amassed more than 394 yards on just 12 returns, bringing his average to more than 32 yards a return. Hine's average is the second best in the country and ranks in the top 25 in total yards.
Cougar fans know that Hine's average could be higher since a few of his long returns have been called back because of penalties. The biggest play to be called back came during the rivalry game against the Utes as Hine ran a kickoff back 102 yards for a touchdown. If it weren't for that call, Hine would have 496 yards and would be top kick returner in the nation with an average of more than 38 yards and a touchdown.
What's even more impressive is that Hine has done this even though the odds are stacked against him and other return men. Last year, the NCAA announced that kickoffs would be moved up from the 30-yard line up to the 35-yard line. Why did they do this? One reason: safety.
The recommendations to the NCAA showed that injuries occurred more often on kickoffs than in any other phase of the game. That's why the new rules came into play.
Because teams are getting an extra five yards now, most kickers simply kick the ball out of the end zone and don't give players like Hine a chance to run back a kick. However, when Hine does get a chance to make a play, he certainly makes the most of it.
"It's been a surprise," BYU head coach Bronco Mendenhall told the Deseret News about Hine's 2013 season. "I knew he'd be solid, but I didn't know he'd be this explosive or do what he's done. It's been a pleasant surprise, and a lot of it is who is blocking for him and what they are doing."
Through seven games the Cougars are averaging 27.8 yards per kickoff return, which is the best they've been in years. It also ranks as the eighth-best in the country.
Over the past couple of years, the progress that BYU is making on special teams is evident. So what does Mendenhall think about his special teams' performance so far this year?
"It's the strongest I've seen," he told the Deseret News. "Again, it's because we have the best players doing it."
Justin is a recent graduate of the University of Utah. Email: [email protected]