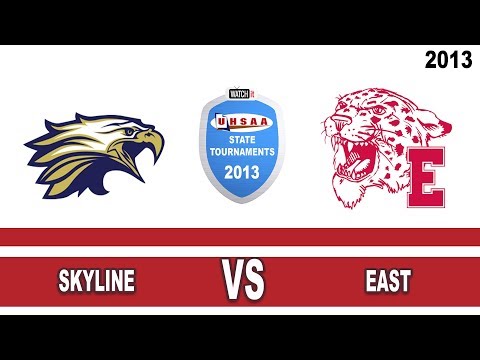 View 10 Items

That just makes it so much more worth playing them. It's a great competition. Winning is that much more exciting.

—Skyline junior Jaslyn Masina, on facing Timpanogos in the 4A state championship game
DRAPER — It took just one first-half goal and the Skyline girls soccer team set up a highly anticipated rematch for the 4A state final.
At least among Region 7 teams.
The Eagles found the net in the 14th minute of their Tuesday afternoon semifinal match at Juan Diego Catholic High School, picking up the 1-0 victory over East and setting a third date with region foe Timpanogos.
"That just makes it so much more worth playing them," junior Jaslyn Masina said of the upcoming contest. "It's a great competition. Winning is that much more exciting."
On Tuesday, Masina scored the solo goal off an assist from sophomore Bella Sorenson. It was her 10th score of the season.
"Bella was just coming down and she always plays the balls perfectly and she's always in the right spot," Masina said of how the play developed. "I made my run hoping she would see me, and she just slotted it right in front of me. It was just touch-and-in. And I couldn't let my team down after she gave me such a great pass."
The rest of the game was a physical contest as East, the No. 3 seed from Region 6, never relented.
"In games like this, in the playoffs, they let you play a little bit more than the normal. I think both teams were going pretty hard," said Skyline coach Yamil Castillo. "It was a lot closer than expected. The other team never gave up, they kept fighting; a lot of respect for their program."
After wrapping up the win, the Eagles, who won the Region 7 championship, turned their attention back to Timpanogos, the second seed from the same league and a team they have seen each of the last two years in the state tournament in addition to the two region matches this season.
The Timberwolves beat Skyline in the finals two years ago at Rio Tinto, 1-0, and then Skyline won 3-1 when the two played in the quarterfinals a year ago. This year, the Eagles lost, 4-3, with 10 seconds to go in double overtime of the first meeting and then beat Timpanogos 2-1 at home.
"I knew in the long run we were going to see each other for a third time," Castillo said. "It's a good team, well-coached, very athletic. It's going to take our best game to come out on top."
Masina is also looking forward to the rematch, both because it is a familiar foe and an opportunity to avenge the title loss two seasons ago.
1
comment on this story
"We went in overconfident. Timpanogos was in our region this year, so now we know what to expect and we're going to take everything we've got," she said. "We definitely know not to underestimate them. Since we've beat each other once, we're going to both come in strong wanting the second win."
She added that having the experience playing at Rio Tinto Stadium will help the Eagles as well.
"I played there as a freshman. … Our field is really skinny and (Rio Tinto) was just way wider and longer than we expected," Masina said. "We let one goal in in the beginning and we just couldn't get back.
"Now we know our opponent, know the field — we're ready."
sthomas@desnews.com
Sarah Thomas earned a degree in Mathematics from the University of Utah and is currently pursuing an MBA at Westminster College. She has been covering sports for the Deseret News since 2008.