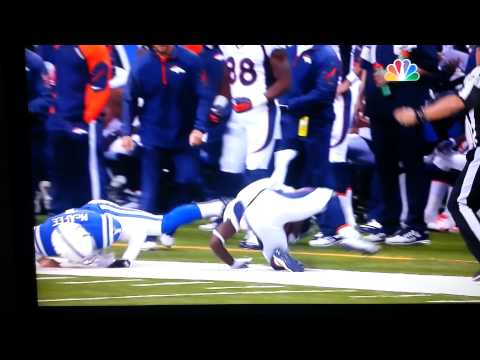 View 2 Items

With Peyton Manning returning to Indianapolis for the first time since he left the Colts and signed with the Denver Broncos, Sunday night's game was highly anticipated.
While the game provided much excitement, no one could have predicted it would make Colts' kicker Pat McAfee a hot topic in the NFL.
Nevertheless, McAfee trended on Twitter and was the buzz among football fans after delivering a huge hit on the Denver Broncos kick returner Trindon Holliday during their matchup on Sunday Night Football.
The enormous hit was one of the biggest ever seen by an NFL kicker, and the hype it caused apparently attracted the NFL. On Monday, McAfee tweeted a picture of a note he received that day, summoning him to a urine-doping test by the NFL's drug testing program.
Guys... Make one random tackle... And end up on a "Random" steroid test.. Must be my bod #UpperBodyOfAnAdolescent pic.twitter.com/s9B7LrS89Y— Pat McAfee (@PatMcAfeeShow) October 21, 2013
The drug test is random, which may cause NFL fans everywhere to raise their eyebrows. Could this be a strange coincidence? Maybe.
But then again, maybe not.
You can follow Mitch Kunzler on Twitter at @MitchKunzler.