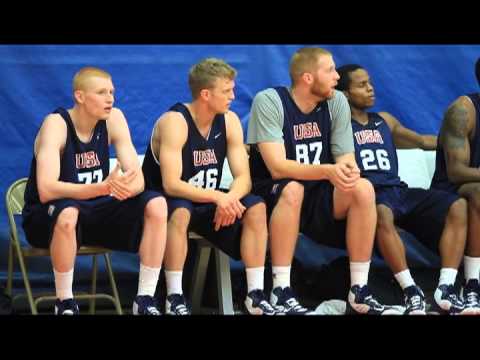 View 6 Items

I felt like I learned so much from those coaches and players. Anytime you can go play against that caliber of athlete — just trying to make the team — and then outside of the U.S. — it definitely gives you confidence coming back and playing with your guys and helping your guys be the best they can be.

—BYU junior Tyler Haws, on playing for Team USA at the World University Games in Russia
PROVO — Just a few months after recording a stellar sophomore season that saw him lead the West Coast Conference in scoring, BYU's Tyler Haws found himself in Colorado Springs with 25 of the nation's top collegiate players.
His goal was to represent Team USA at the World University Games in Russia.
"I hadn't tried out for a team for a long time," recalled the Cougar guard. "It was a weeklong tryout and we'd go twice a day for two or three hours. You were always on your toes."
As it turned out, Haws survived the cuts and made the team, becoming the first Cougar basketball player since Devin Durrant in 1983 to represent the United States in international competition.
Haws was a teammate of players like Louisville's Luke Hancock, Baylor's Cory Jefferson, and Creighton's Doug McDermott.
And although Haws played sparingly in Russia, his experience with Team USA is expected to pay big dividends for him and the Cougars as he enters his junior season.
"It was crazy. It's hard to put into a few sentences. Those three weeks felt like three months," Haws said. "I felt like I learned so much from those coaches and players. Anytime you can go play against that caliber of athlete — just trying to make the team — and then outside of the U.S. — it definitely gives you confidence coming back and playing with your guys and helping your guys be the best they can be."
BYU coach Dave Rose, who traveled to Russia for the World University Games, said Haws benefitted from being part of Team USA.
"I think it really helped his confidence in the tryout in Colorado Springs. It was a real competitive, stressful situation where you have to play well every day, in every practice. It was kind of a grind. For him to come out of that making the team, I think it really helped him mentally to know that he's a really good player, one of the best college players in the country. The experience in Russia was a little bit different, but I think it will help him. He had never been in that spot in a high school or college setting. I think it will help him as he leads our team as one of our captains."
Cougar forward Nate Austin has noticed a difference in Haws so far this season.
"He's more of a leader this year. Last year, I think he relied on the seniors to lead," Austin said. "I think the Team USA thing helped him with his footwork on defense. His game's the same, but he's being more of a leader. As good as he is, he's a humble guy. He learns from those experiences and teaches us things he learned from it."
Haws returned home from a mission to the Philippines in April 2012. Six months later, he was back on the court, playing like he had never left. He averaged 21.7 points per game — which was seventh in the country — and shot 48 percent from the field, 38 percent from 3-point territory and 87 percent from the free-throw line.
Haws became one of just two players in BYU history, along with Danny Ainge, to reach the 1,000-point career scoring plateau as a sophomore. In 71 games, Haws has scored 1,177 points, which is the most ever for a Cougar sophomore.
Last season, he had 25 games in which he scored at least 20 points, which is No. 12 in school history. Haws' career free-throw percentage is 89.1 percent, the first all-time in Cougar history.
Guard Kyle Collinsworth, who recently returned home from a mission and was part of the 2011 BYU team that reached the Sweet 16, has never played with Haws.
But he's looking forward to it this season.
"I am because he's a competitor," Collinsworth said. "He likes to win and it's the same way I am. We want to win every game we play. I'm really excited."
Collinsworth said Haws has helped his own transition from a mission.
"He talked to me about the things that helped him, and I've tried to apply some of those things," he said. "So far so good."
Collinsworth served his mission in Russia, where Haws spent a couple of weeks as part of Team USA in the World University Games. They've talked about their experiences there.
"He commented how rough Russia is and how people don't smile," Collinsworth said. "I said, 'Yeah, that's just the culture over there.' "
Haws enjoyed meeting people from all over the world while in Russia with Team USA.
"Even though I wish I could have played a little more, it is what it is," Haws said. "There are so many little things that I learned. It was kind of an eye-opening experience. I feel like it will help me moving forward."