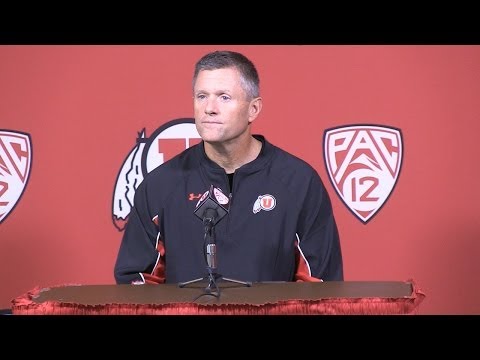 View 2 Items

SALT LAKE CITY — Utah football head coach Kyle Whittingham addressed the media Monday in advance of Utah's out-of-state trip to play against the USC Trojans Saturday.
Among other topics, Whittingham addressed Andy Phillips' two missed field goals in Saturday's game at Arizona. The entire text of Whittingham's Monday press conference can be found here.
The portion referenced in the headline takes place at the 7:20 mark of the video. Don't have time to sit and watch the whole video? Download the audio and take it with you on your mobile device.
Kyle Whittingham: OK, I didn't think we handled the first Pac-12 road trip very well. We came out flat in the first half, didn't play well at all in the first half. You know, run game, run defense, was poor. The back did exactly to us this year what he did last year, which we knew going in, if that happened, then our chances weren't real good.
When you look at everything that happened — slow start, losing our starting quarterback, this and that — we still at the end had a chance to win, and we didn't take advantage. It was 28-21 and we got the ball consecutively, I think, at their 27- and 23-yard line and came away with three points total.
We had chances and didn't capitalize, but we've got to move on. We've got USC coming up this week and another road trip, and we've got to get ourselves picked back up and ready to play.
Questions?
Reporter: All right, coach, moving forward... Hans Olsen, ESPN 700...
KW: (Laughs) That was very official.
Reporter: Obviously, Travis Wilson, hand issue. I don't want an injury report, but moving forward, if he's there, he's there. If not, what will you do with the quarterback situation?
KW: Well, Schulz came in and did a good job for us on Saturday night. If we're at a point where Travis is not available, we'll have Schulz and Connor Manning take all the reps this week in practice. And if Connor outplays him, then he would be coming out of a redshirt year and being the guy, but that's worst case scenario. I think best case scenario is Travis will be able to go, and we'll be business as usual.
Reporter: Kyle, you had a really, really tough night on third down conversions. Are you getting to the point where you're really seeing and really missing guys like Kenneth Scott and the two tight ends in trying to convert some of the third and longs?
KW: Yeah, something's wrong, and you're exactly right. We're bad on third down on both sides of the ball. It's not just offensively. It's stopping third down, defensively, we're near the bottom of the league in both sides of the ball with our third downs and our two biggest nemesises right now — nemesises? Is that a word? Nemeses? Anyways, third down and turnover margin. … We've turned the ball over too much. We haven't taken it away enough, and we're not doing good enough on third down, so those are the two areas that are critical for us right now.
Reporter: Coach, you mentioned you didn't handle the first Pac-12 road trip well. Is that something leading up to the game or was that just in the rough season?
KW: Great question. I talked in length with coach (Dennis) Erikson who has been coaching for a long time, and he said that he's experienced the same thing many, many times in his career and doesn't really have an explanation for it. It reminded me exactly of Arizona State last year and Cal Berkeley — exactly. Same feeling in the locker room, same lack of passion, lack of energy. Why is the million-dollar question. We didn't prepare any differently. There was no signs of it coming, and so we've got to get fixed obviously, or else this is going to be something that, you know, is a negative force again, so you can't let that happen going forward.
Reporter: Coach, if you do end up with either Schulz or Manning at quarterback, does that change your game plan offensively at all with Travis being a little bit more of a running quarterback?
KW: Well, a little bit. Yeah, we've got to talk advantage of the guy pulling the trigger and Schulz obviously has the big arm and Connor's a thrower as well, as so if that is the case, then, yeah, that will alter the game plan, not radically, but somewhat.
Reporter: When, ideally, will you make a decision if Travis can go or not?
KW: Ideally tomorrow. You know, we'll see. If we can get him a practice tomorrow, we'll have a good feeling or a good idea of where he stands. We'll see. That's a medical staff decision and obviously Travis' as well.
Reporter: Is that something that could come down to game time, you think?
KW: It could, but we hope not. You know, the quarterback position, you know, we'd rather have that settled going in and giving the reps to the right guys, the guys who are going to be available to play. We've got to handle that a little differently than another position.
Reporter: Coach, would you only pull Manning out of a redshirt year if Travis were going to be out for more than one game?
KW: Right, yeah, if it's an extended thing, which we don't think it's going to be. You know, we wouldn't do it for one game. That's a great point. I didn't mean to paint that picture, but if Travis was not available for just this game, then Schulz would be our guy. If it's beyond that. ... I'm assuming that was the scenario I was covering, but we would not make that move with Connor, and with only five games left in the regular season.
Reporter: You talk about USC, how different are they since the firing of Lane Kiffen? You talk about a challenge. I imagine any time you go to the Coliseum, it's a challenge.
KW: Well, they're very similar, and defensively, especially. That didn't impact the defense at all, and so they're playing good defense. In fact, they're No. 1 in the Pac 12 total defense now, playing exceptionally well on that side of the ball. Offensively, just a few minor tweaks, other than, otherwise it's very similar. You can't wholesale change in the middle of the season. What you're seeing the last couple weeks is very similar to what you saw the first three or four weeks.
Reporter: USC's top running back from last year, Silas Redd, has been banged up. He's coming back healthy and been playing the last couple weeks. With him back, do you expect USC to have more of a ground game and are you concerned, given how the running defense performed against Arizona?
KW: Well, they've always been a run-first team. Well, not always, but most years, they're a run-first team. Redd is a tremendous back. We've played good run defense up until last week. You know, last week was obviously horrific run defense, but prior to that, we've been pretty solid, and so I expect them to establish a good run game just like they always do, and we've got to do a good job on defense trying to negate that.
Reporter: Coach, for three straight weeks, you've given up an early touchdown drive by the opponent and kind of a late one. Also pretty solid in the middle. Can you give an explanation for that?
KW: Good observation. It's exactly what I've been thinking about this morning. I think it's the opening drive in the last three weeks, if I'm correct. And so, we've got to find a way to get out of that first drive and, as you mentioned, the last couple of weeks, we've given up one at the very end, so that's something that ... We've got to play better in those situations.
Reporter: Can you give us an idea of how Adam Schulz graded out once he came in?
KW: Yeah, he was pretty good, his QB rating, which is kind of the new barometer, was, I think in the mid-60s, which isn't bad. And then, as far as our own grade, it was, as I remember, in the high 80 percentile, is what he graded at. I'd have to go back and be sure, but that's about where I believe. It was.
Reporter: Coach, to watch when Andy Phillips missed his field goals, he seemed absolutely shocked. I wonder for the reaction was for you guys for somebody who's been automatic, and since then, have you or maybe coach Hill sat down and talked with him, or do you just leave him alone?
KW: Well, coach Hill's talked to him. Andy's a tough kid, and it's unfortunate we missed those two kicks. But if you would have told me at the beginning of the year, he's going to make 12 of his first 14 kicks, I think we all would have taken that, and so that's where he is right now. He's 12 of 14. Obviously, those kicks were big. Had we made those kicks, 30-28 it would have been, at the end there, or towards the end, but that's just, you know, would-a, should-a, could-a.
And so, we're pleased with what Andy's done so far this year, and my guess is he'll get back on track this week.
Reporter: Coach, what's going on with the offensive line that has them so hot and cold in pass protection.
KW: That's another good question. We've had some breakdowns in pass protection. One time, it was a miscommunication. We checked a protection at the line, and didn't get communicated all the way to the left tackle, gave up a sack in a situation there. In fact, both tackles last week — last week, Saturday night — were not as stout as they had been most weeks. We gave up some things on the edge. The inside three, however, played very well. The guards and the center, and so, we'd like to get them all playing well at the same time. That's the objective.
Reporter: And that inside three, that's been hot for you all year long, you've had …
KW: Very solid. Very solid all year long. You know, Salt and Tofaeono at guards, and then Vince Jones at center. Very consistent.
Reporter: I felt like this game, in particular, really missed Jake Murphy at times, that target that drew some attention.
KW: Yeah.
Reporter: Dres Anderson (did) not hit as often as maybe you would like, or anybody would have liked. Can you talk to us about the tight end position and what you're maybe looking to do at that position at this point?
KW: Yeah, well, that certainly has taken a big dimension away from our offense, and we are feeling the effects of that, but you've got to move forward. Karl Williams has been our answer so far with a lot more two-back stuff. Siale and Greg Reese... I think we played about eight or 10 snaps with a tight end Saturday night. But going forward, we've got to take a look at maybe implementing them more, giving us a little more diversity on offense, because that's something that, you know, losing Jake and Westlee (Tonga) has really altered our plans.
Reporter: Coach, outside of the Weber State game, it seems like every win and every loss has been so emotional…
KW: You're right, right.
Reporter: Is the team staying even? How are you guys handling this?
KW: We were handling it well up until Saturday night, but like I said, I thought we came out for the first time all season long without that fire we've had in every single game up to that point. And it has been an emotional year, ups and downs. We've been a mentally tough team and a very resilient team, but one thing we did do is we bounced back in the second half and played with that fire and fought our way back into it. In fact, we go from 20-7 at halftime to 21-20 in a pretty big hurry. So, we did a nice job of coming back after we were down first half, but you're right. It's been an emotional season, but we've just got to be able to handle that.
Reporter: Coach, as far as your defense getting off the field at third down, what's the single biggest thing that needs to change on that, make that better?
KW: Well, it hasn't been a single thing you can pinpoint. It's been some run plays, some throw plays. I mean, it hasn't been a particular coverage. I don't think there's any one common denominator. We've just got to find a way to make that play on third down, and we hadn't been able to do that with enough regularity this year.
Reporter: Coach, USC has several injuries as well. What are your thoughts on maybe coming out with official injury reports? There's a kind of cat-and-mouse game. Do you prefer that? What do you prefer?
KW: Yeah, I would prefer the NCAA to have a standardized way of handling injuries, but I don't know if that's going to happen. The NCAA is a much larger ... And Division I larger body, you know, than NFL has it, but they're a little more compact and able to control things a little bit better and standardize things, but I think that it would be nice if they did do that and everyone adhered to the same format and the same way of announcements and releases of the injury report. But until then, we'll just continue to not have one.
Reporter: Along those lines, I guess, Marquise Lee is a little banged up, but if you can get, I mean, he's still considered the best receiver in the country. How do you deal with a guy like that?
KW: Yeah, he's tremendous and he's a guy that you better be aware of where he is, and if you have double coverage built into your package like we do most weeks, he's going to be the focal point of that. He did not play the second half last week, but I think that was maybe more for precautionary reasons. Apparently, he's feeling pretty good. We're expecting to see him, and if not, then we'll adjust, but our plan going forward is we expect him to play.
Reporter: I'll embarrass Trevor because he's just right there. Can we just talk about his plays recently, and just his nose for the ball?
KW: Yes, instinctive player, he's one of our big-play guys on defense, if not our biggest-play guy on defense, and we rely on him to be a disrupter and make those plays. He made a big play on fourth down and goal early in the game. Sacked the quarterback to stop that drive. He's a guy that we rely on week in and week out to step up and make big plays for us, and he's done that.
Reporter: Coach, you talked about how important it was to really make that through the season with one quarterback. Is it reaching the point where the game's gotten so physical that the teams just can't expect that anymore?
KW: I don't think so. I think that's still do-able. I think that's very do-able, and hopefully we'll get Travis back and that he won't have missed that … two quarters plus a little bit in the second quarter. Time will tell, but I think, if you look a little bit at the Pac-12 and which is going on right now and most teams, their quarterbacks are healthy to this point in the season.
Reporter: Coach, there used to be, at least from a fan perspective, sort of a mystique about USC and their program and their stadium, but it seems like a lot of that has gone, and especially for you guys on your team and your program. How important is that they are able now to go in there and are say, "Hey, is that the next team"? It's not, "Oh, it's USC."
4
comments on this story
KW: Well, I think there's still a certain aura about just the name. You know, Southern Cal Trojans. I mean, that's still a name brand and one of the most storied programs in the country. But I don't think that's bothered us the last two times we've played them. I think we've matched them up pretty good and played them very competitively, and I think we were just short of both games. But hopefully, this year, we'll go down there with the right attitude and be able to compete again. So we'll see what happens.
Thanks!
Special thanks to Russell Olsen who transcribed the press conference for the Deseret News.